Toolpack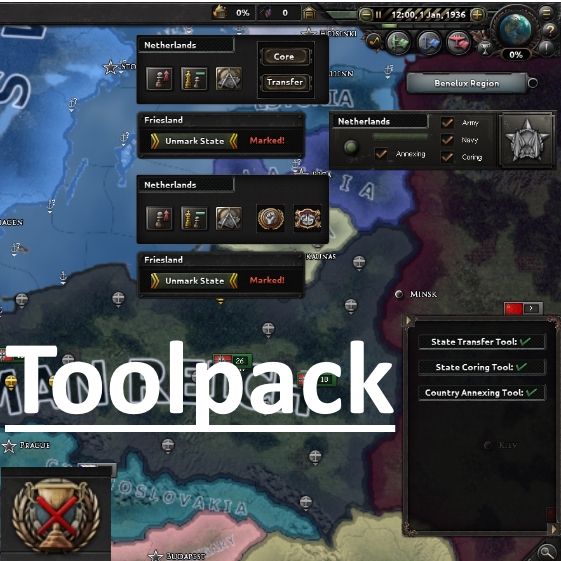 Description:
Russian, German and Portuguese translations are up!
Special thanks to:
– Dimitrus for the Russian translation
– German Empire 1871 for the German translation
– Edward Vostok Dimitri for the Portuguese translation
Большая часть сборника инструментов полностью переведена на русский язык.
Die deutsche Übersetzung ist fertiggestellt.
A Modificação Toolpack (Pacote de Ferramentas) está traduzido para o português.
Welcome to the Toolpack, the obviously best mod in the world with the best name ever!
You ask what it can do? Ask your imagination!
The Toolpack is a sandbox mod that allows you to shape any game however you want. Start the second world war with 1914 borders, fix border gore and have Tannu Tuva dominate all of Asia.
Go now and
buy the 500 limited copies
subscribe for
only 50$ a piece
free!
Got a problem? An aweseome suggestion for improvements? Looking for crazy Toolpack enthusiasts? Want to have a say in future development? Looking to volunteer? Join our discord server!
https://discord.gg/SH4Q6fP
Current Features:
– State Managing Tool:
Transfer states between countries as you like
Re-/demilitarize states
Move the capital of any country anywhere
Core states for any country
Add claims to any state for any country
– Country Annexing Tool:
Annex any country into any other country
Transfer Troops
Add cores to the annexing country
Transfer Navy
– Country Puppeting Tool:
Puppet countries
Change autonomy states
Add autonomy points
View a gallery showing all different autonomy states
– Ideology Changing Tool:
Increase or decrease popularity of any of the four idelogies
Change the ruling party of any country
– Division Spawning Tool:
Spawn preset or custom divisions anywhere and how many you want for any country
– Politics Tool
Create and edit factions
Grant and retract major status
Add and remove guarantees
Add and remove military access
Add and remove Non-aggression pacts
Add and remove opinion and trade modifiers
Create war between countries
Make peace
Create truces
Spawn civil wars
Increase and decrease world tension
– Ship Spawning Tool
Spawn ships in 6 different regions (Atlantic, Pacific, Baltic Sea, Black Sea and Indian Ocean)
Spawn 7 different ship types (destroyers, light cruisers, heavy cruisers, battlecruisers, battlehips, carriers and submarines)
Add or remove convoys from stockpile
Features Planned for Next Update:
– Building Spawning Tool
Features Planned for Future Updates:
– Research time and research slot Tool
– Resource Tool
– Country Release Tool
– Rule Changing Tool (volunteers, faction creation…)
– Manpower / Population Tool
– Equipment Tool
Other Features That Might Be Added at Some Point:
– Formable Nations Tool
Features That Will NOT Appear in Future Updates:
– Nuking Tool
– Renaming Tool
– Flag Changing Tool
– National Spirit Tool
Compatibility:
– Should be compatible with any other mod to some extent
– Problems with other mods might appear when using the "Ship Spawning Tool" or the "Country" section of the "Politics Tool" (depending on whether or not the mod changes ideologies/technologies.
– Not Iron Man compatible
– Should be MP compatible as long as only one person uses it at a time