Hearts of Azeroth (A Warcraft Total Overhaul)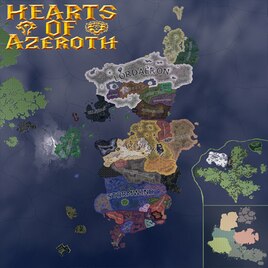 Description:
Hearts of Azeroth is a total overhaul project to bring the warcraft universe into Hearts of iron 4. Set during the first and second war experience the classic rts games from a different perspective. Fight for control of all new resources with unfamiliar troops and nations to claim all of Azeroth for yourself.
Join our Discord to leave feedback, find multiplayer games, and get the latest info on the project before anyone else.
Discord: https://discord.gg/f799FAs
Suggested settings:
1920×1080
Nato Coutners turned off
No other mods enabled
Features:
New Map:
Fight on over 8000 provinces against brand new nations for control over the Eastern Kingdoms. With a constantly changing map with new nations added weekly, making the battle fresh and more intense every time.
Focus Trees:
Using evolving focus trees even a defeated nation becomes fun and interesting to play with alternate history scenarios for almost every scenario. A list of the currently implemented ones can be found down below.
• Brand new generic focus tree
• Stormwind first war focus tree
• Bleeding Hollow Clan first war focus tree
• Gurubashi Tribe first war focus tree
• The Shadow Council first war focus tree
• Placeholder focus tree for Blackrock Clan
New Tech Trees:
No total overhaul would be complete with ought new tech trees and units featuring a wide variety of infantry and cavalry units to choose from, you can also bring death from the sky's and from advanced engineered machines.
Credits:
Mod Lead: Zoltarian
Lead Devs: MrBlazzar,Zaperox
Devs: Nightishaman,Godisen
Artists: Telivan,Indyclone,Archmage Khaplan
Writers: Axey,ValianBlue,Jaggerhawk,Claw,Huntsman
Special thanks to Ted52 and Asurito for helping us along the way!
Twitter: https://twitter.com/HeartsofAzeroth