Jayu – Another Korean Overhaul Mod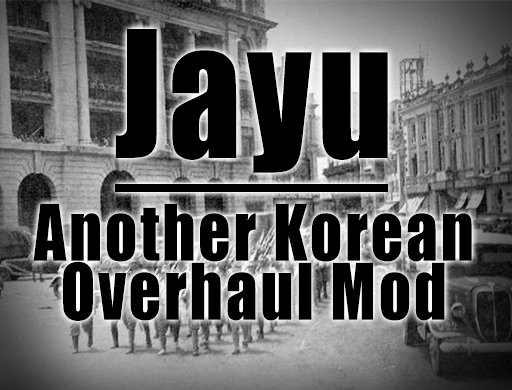 Description:
Jayu – Another Korean Overhaul Mod
Description
Jayu is a revamp of my older Korea revamp mod 'Seunglin' which aimed to expand and increase the playability of Korea. In the process of updated Seunglin to 1.5 I realised that a majority of the code and GFX in the mod was of quite a low quality and needed an extensive rework. Several weeks of procrastination later and here we are!
Unlike the old mod, the military side of the focus tree should not be identical to that of the generic tree and all the political trees have been reworked to provide a more entertained experience that a simple reskin of the generic.
How to play
Start the game by picking and playing Japan. You will immediately be able to choose a decision allowing you to decide on the future of the peninsula. Picking the last one will completely release Korea and tag switch you to them while the middle turn them into an unplayable Japanese puppet.
It is VERY important you do not simply release Korea as it will not trigger certain events required for proceeding through the focus tree.
To-do List
While I consider the mod to be fairly fleshed out there are a few things I would like to add
Unique tech tree (names and gfx)
Add a few global news events
Finish localisation for focus descriptions (in progress)
Events for the creation of a North and South Korea if the country is not released at the games start and is later conquered by the Soviets and Americans
Anything I may have missed
DISCLAIMER
I would like to credit Kaiserreich for the odd portrait and focus throughout the mod
While extensive research has gone into the leaders, generals, advisors, companies etc. the paths the respective leaders are able to pursue in the focus tree and most of the decisions are based in little historical accuracy. I do not mean to offend anyone with the interpretation of any of these figures.
Old version of the mod for those curious
https://steamcommunity.com/sharedfiles/filedetails/?id=929203249
If you have any ideas, suggestions, bug reports or constructive criticism leave a comment down below. Thanks!