Hearts of Fashion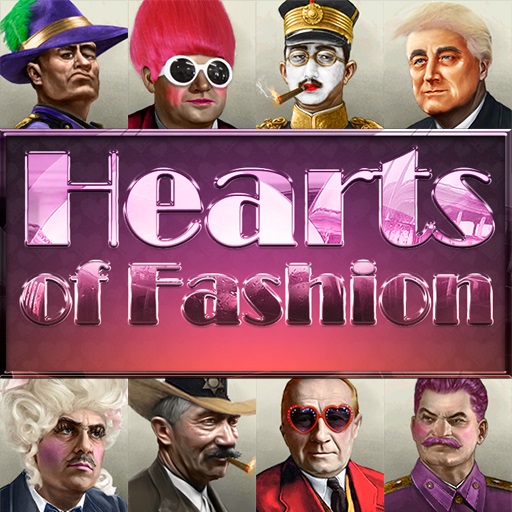 Description:
PRESENTING…
HEARTS OF FASHION
"Fashion" – what exactly is it? Art? A way of life? A way to define yourself?
No.
In direct opposition to what generations of self-proclaimed "fashionistas" would have you believe, true fashion is none of these things. It is having the courage to walk face first into battle, armed only with your trusty rifle, and surrounded by your friends and allies. Only to be gunned down like dogs because you were all wearing bright red party dresses during what was supposed to be a stealth operation.
What fashion truly is, especially during times of war, is having the courage to defy all logic and social convention, to deliver a rousing speech to your troops while proudly having a blobfish on your head. Pioneers such as these, each one as stunning and brave as anyone you have ever met, led the charge not to defeat their enemies, but to show off their new heart-shaped sunglasses. All while the man next to them desperately struggled to remove the headcrab from his face.
Let us never again forget the sacrifices that were made by these great leaders, who threw away their lives, not for the safety of their loved ones, but to dress up in a purple wizard costume and throw pretend fireballs out of their "magic" staff. Not because it was necessary, but because it was beautiful.
Features:
– A new, reformed version of your favourite leaders.
Leaders completed:
England, France, Germany, Russia, USA, Japan, Belgium, Canada, Denmark, Netherlands, Italy, Mexico, Norway, Poland, Spain, Sweden, Switzerland, Austria, Romania, Bulgaria, Yugoslavia, Hungary, Czechsolvakia, Slovakia, Albania, Greece, Portugal, South Africa, British Raj, Luxembourg, Australia, New Zealand, Ireland, British Malaysia, Dutch East Indies, Finland, Tibet, Bhutan, Nepal, China, generic chinese leaders, People's Republic of China, Manchukou, Mengkukuo, Mongolia, generic warlords, Sinkiang, Siam, Shanxi, Guangxi Clique, Yunnan, Xibei San Ma, European generic leaders, Asian Generic leaders, German Generals and Admirals, Chinese Generals
We will be updating this regularly with more leaders, generals and so on until EVERY SINGLE LEADER AND GENERAL IS DONE…
COMING SOON…
– OIL NATIONS
– FRENCH GENERALS!
Reviews:
"This is one of the best things I have ever seen" – Niko92
"best mod 10/10" – Boostah
"eggs and bacon" – Buster
Mod Version:
1.4 – SOUTH AMERICA
Compatibility:
This mod is purely cosmetic and can be played with any mods, as well as on your own machine in multiplayer games. It merely overwites the leader portraits.
FASHION IN THE MEDIA:
Drew Durnil's video using the best mod:
https://www.youtube.com/watch?v=bGqt65TcmC0
iSorrowProductions showing us off:
https://www.youtube.com/watch?v=TLJJyUZC-e0
Credits:
Ronald – Implementation, conversions and project management.
Atle – Lazy Art monkey.
Buster – Lazy Producer, Copywriting and Fashion Consultant.
BigMamma – Lazy General Consultant and Producer.
Salvador – Ultra Lazy Demotivator.
Dan the Ham – Lazy Sourcing.
Raouldukejnr – Lazy Quality Assurance.
Poopsie – Lazy Ideas and Animals.