-Minor Immersion Reskin: Europe-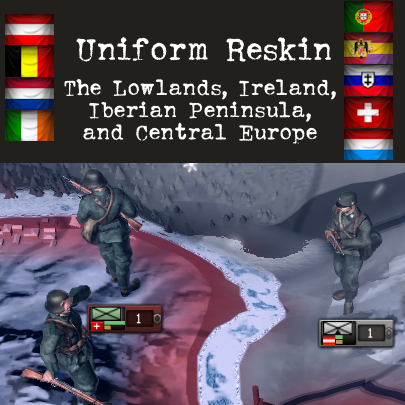 Description:
HELP REQUEST!
I have been using Maya Autodesk to create the edited graphics. My subscription (free) has run out a while ago. I would like to revise all existing (make them more diverse/accurate) and create new models (aircraft, late weaponry, etc.), but cannot warrant a $250.00 a month hobby ($500.00 for two months). I could warrant a $50.00 a month hobby.
I have experienced some great generosity from the community! Enough to cover one month of maya, plus a good start on a second! I am astounded by the response, especially the large donations that some had given!
Help the Mod at Paypal[paypal.me]
Thanks for any assistance!
MOD DETAILS
This mod is an attempt to take nations region by region, and to apply authentic (ish) looking models for them.
When making this mod, liberty had to be taken when dealing with some nation's equipment and uniforms. Nations like Austria, Belgium and Holland all fell about mid game (1938 and 1940), leaving speculation as to later equipment and uniforms (I didn't want to give them US or British equipment that the armies in exile used). To solve this, I applied local solutions (i.e., Swiss weaponry or post-war Belgian weaponry) as well as slight modification of older equipment (i.e., the Austria continue using the M17 helmet, Belgium using the M26, and Holland using the M27, but with a more modern cut of uniform).
Mechanized are primary Lorraine 37L and Lorraine 39L, I figure that these are 'generic' enough to represent mechanization better than applying all too familiar US, German, or Soviet equipment. Some nations (HOL) use the SdKfz.251, representing the Overvalwagens, which were similiarly looking.
Complete Versions
Part 1: Scandinavia and the Baltic States
Part 2: Western and Central European Minors
Part 3: The Balkan States
Part 4: Asia and the Pacific Minors
Part 5: Middle East and Africa
Part 6: South and Central America
Part 7: Generic and Cultural Generic
Part 8: Poland
Part 9: France
Part 10: Italy
Part 11: United States
*Break from producing mods, going back to Maya to revamp models (greater accuracy, more models). Will complete 12-17 in the new year.
Part 12: Death and Dishonour DLC states (pending)
Part 13: Together for Victory DLC states (pending)
Part 14: Waking Tiger DLC states (pending)
Part 15: Japan (pending)
Part 16: Soviet Union (pending)
Part 17: Germany (pending)
Download
Revisions:
Old revisions of this mod are available below. Click the link to download.