*UMC* Japan Completed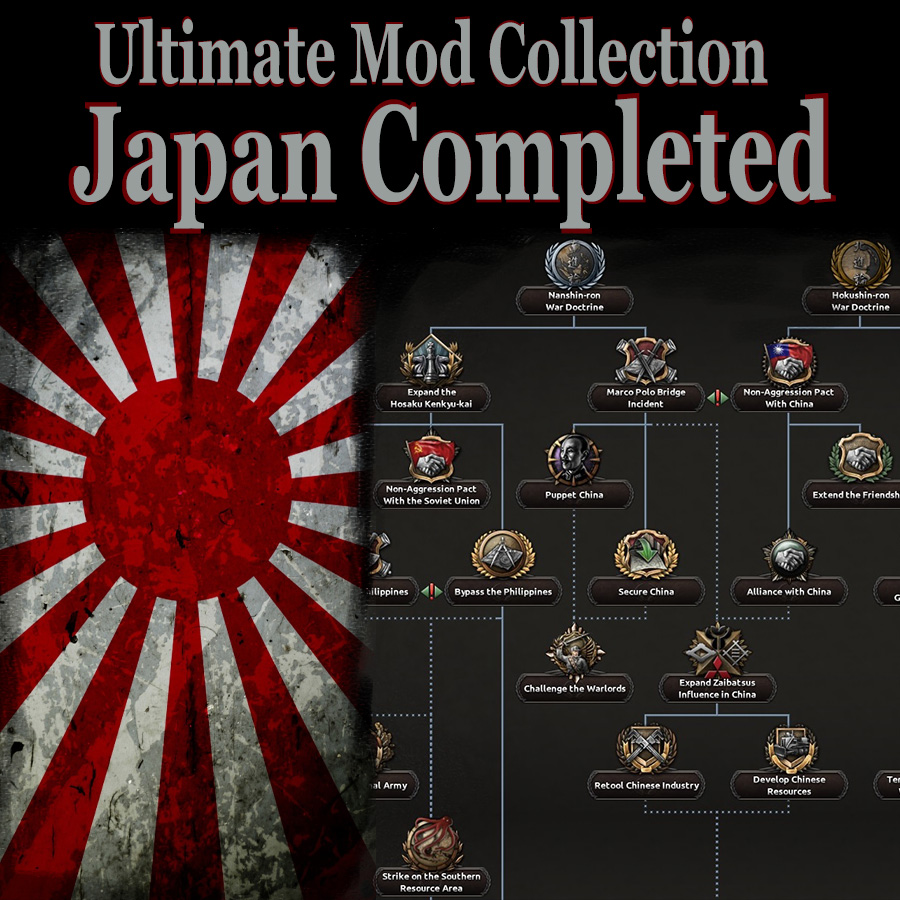 Author:
Narzgel
Last revision:
31 Oct at 08:27 2018 UTC
Description:
UMC – Ultimate Mod Colection
presents: Japan Completed, a overhaul mod for the Japanese Empre!
Join us od Discord!
https://discord.gg/GD8JWq7
– please do not add me on steam and contact me rather on Discord.
Features:
– Unique Focus Tree: Almost vannila-style focus tree with more than 60 new focuses!
– Expanded Decisions: Develop those rich northren resources!
– Reworked Traits for Advisors & Designers: Look at those Samurai traits!
Future plans of mod:
– Democratic & Communist Focus Tree
– Unique Leaders
– Better AI behavior
– Expand Focus Tree
for example: "Indian National Army" will start civil war in India
Future plans of UMC:
– Look on Discord for this man!
Looking for:
– News/Events creators: There is never enough events right?
Compability:
– I DONT KNOW: Seriously, you need to try it yourself. Just run the game and see. It's okay to ask but I already answered question about compability with Road to 56 like 56 times already. And I still don't know.
FAQ:
– How long did this take?: Too long.
– Will you do focus for this nation and this…: Yea, I will. One day. After the oficial DLC expanding that nation.
Credits:
– @Indyclone77: for his AMAZING GFX work.
– @Abbus: for his AMAZING GFX work. Yep, they are both amazing!
– @All guys in discord: for motivating me, providing feedback and ideas.
Thank you guys.
———————————————————————-
Other UMC Mods:
– German Overhaul: https://steamcommunity.com/sharedfiles/filedetails/?id=1380558447
– Generic Overhaul: https://steamcommunity.com/sharedfiles/filedetails/?id=1424237406
———————————————————————-
Vote about next Mod!
– http://www.strawpoll.me/16504244
Wanna support UMC a gain benefits?
– Become a Patron! https://www.patreon.com/Narzgel
You can gain:
– Discord voting rights!
– Early/Beta acces!
– And much more!
Or donate directly here:
– paypal.me/Narzgel
All support is highly appreciated and will help with future UMC development!