Cheaper Recruitment of Generals (The Road to 56)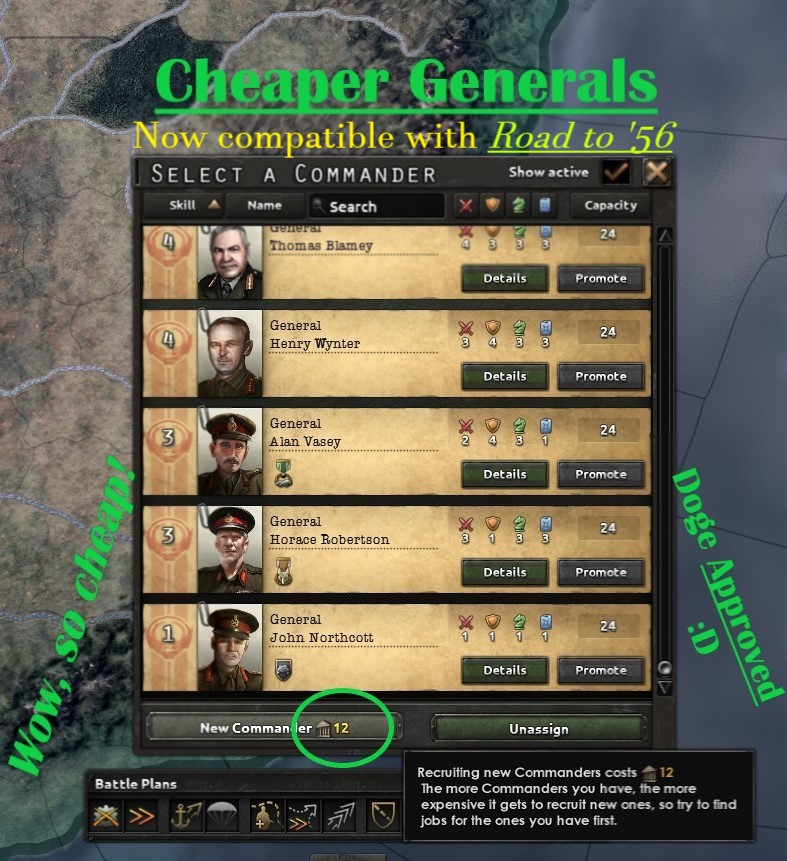 Description:
Now Compatible with The Road to 56!
The year is 1944, your minor nation playthrough (yes, even Poland counts) has gone much better than expected! However, you have now realized that you have waaaaay too many armies and not enough generals to man them all.
No problem! Just recruit more generals…but wait…it's gonna cost you 70 political power? And the next one 75?! You only have enough for one! What if the only one you can recruit–and now have to rely on–has disappointing traits? You can't wait for your slow Political Power gain to try again, you're ready to strike now! Besides all this, you have conquered a decent swab of the earth! Surely men of a general's caliber should be begging to join your army, not the other way around!
Have you encountered this situation with a minor or even a major nation? Then this mod is for you!
*Mod Features
-Reduces the cost of recruiting generals and admirals by 60% based on however many generals (or admirals) you already have (e.g. you start the game with 6 generals, recruiting your first additional one will cost you 14 Political Power. The next one will cost 16, and so on and so forth)
*Mod Compatibility
-This mod is completely dependent upon and will only work with The Road to 56.
*Links to my other CROG mods:
-Vanilla: https://steamcommunity.com/sharedfiles/filedetails/?id=1441159385
-Kaiserreich: https://steamcommunity.com/sharedfiles/filedetails/?id=1442082475
If you enjoy this mod or even like the concept, please leaves a thumbs up/favorite so that other people can discover this mod!
Thanks!