Beautiful Expanded States + Regnum Poloniae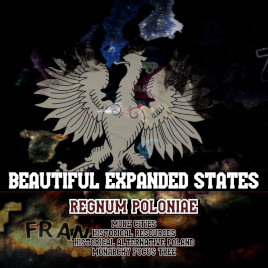 Description:
Hello there, my name is Stanisław "Eff1o" Dul, I am the creator of Beautiful Expanded States + Regnum Poloniae. I wish to present you the alpha version of BESMRP – A mod which includes Expanded States, New Cities, GFX'es, and an Alternative Focus Tree for Poland – based on alternative history of Poland, where Polish Monarchists start a civil war against the Sanation Government. After few months of work, I've made a first Alternative Monarchy Focus Tree for Poland in Hearts of Iron IV. I hope, you will enjoy it!
We have recently updated for Man the Guns. Please let us know if you encounter any issues. Also this is an Alpha version, and a lot of content from 1.5.2 is not yet added into mod. It will be added in few updates.
Next Update without context
1. Beautiful, Expanded States
2. Alternative Monarchist Focus Tree for Poland after Civil War
3. Historical Poland Focus Tree Mod + Monarchist Path with Civil War
4. More Cities (Updated Victory Points) [Not yet added /because of MTG]
5. Reworked Map [Not yet added /because of MTG]
6. Historical Resources [Not yet added /because of MTG]
7. 500+ Events for Poland (Capturing Cities, Historical Events, Alt-Historical Events)
8. Expanded City GFX'es [Not yet added /because of MTG]
9. Reworked Polish Lithuanian Commonwealth based on Escodrion's work + Borders [Not yet added /because of MTG]
You don't have to play as Poland as the mod is fully playable as any other nation. The changes to Poland are just an extra.
————-
Latest Update – 5/5/2019 – 1.6.2 Compatibility – "Beautiful Expanded States + Regnum Poloniae [ALPHA]"
————-
– Fixed a lot of issues from 1.5.2 version
– Added 30% of map from 1.5.2 version
– Added Eastern "Problem" version of mod
– New eastern europe countries (Perm, Don-Kuban, Karelia, Moscovia, Novgorod)
– Changed colors of countries and new monarchist leaders for eastern countries with special flags of regions
– fixed events with Latvia and Belarus
For detailed discussions with the developer, information on the future of mod or joining the team – you can join our Discord server[discord.gg]
I also post T.E.A.S.E.R.S on Polish Hearts of Iron IV groups, on my Youtube Channel and Fanpage.
[Chciałbym podziękować głównemu administratorowi grupy Hearts of Iron IV Polska za zbanowanie mnie na grupie bez żadnego konkretnego powodu i usuwanie mojego kontentu. Tą ciekawą zagrywką strzeliłeś sobie w stopę. Osoby, które lubią mojego moda i chcą dalej oglądać teasery – to zapraszam na drugą grupę Hearts of Iron IV Polska i Świat. Niestety neutralność zawiodła i najpierw straciłem jakieś śmieszne rangi na discordzie, potem zakaz postowania ("tymczasowy :DDD") a dzisiaj banik. Jest to komunikat dla osób z największej grupy – to dla was powstał ten mod i szkoda, jakbyście nie wiedzieli czemu nie ma mnie na tamtej grupie już.]
https://www.facebook.com/groups/2205853699655080/
https://www.youtube.com/channel/UCPlLdHfVkcwugaiufj5cJqg
https://www.facebook.com/OfficialEiffo/
I will most likely release another update in April, adding some content from the 1.5.2 version. The Monarchist path will be fixed and a Capitalist path will be finished. I'll also start working on a Poland-Lithuania Focus Tree in the "Soviet Problem" path.
Eff1o' – Project Lead, Coder, Artist, & Quality Control & PR & actually everything
Gerrade – Creator of Beautiful States
Escodrion – Primary GFX Artist & Background creator & PR &
DeviantArt Member[www.deviantart.com]
MisterDiego27 – Secondary GFX Artist
ZastavaArms_Tavish – Translator
The Kaiserreich Dev Team – GFXes
The Historical Poland Dev Team – Gfxes & Content & Base Focus Tree
Enjoy!
Download
Revisions:
Old revisions of this mod are available below. Click the link to download.