-Minor Immersion Reskin: Middle East & Africa-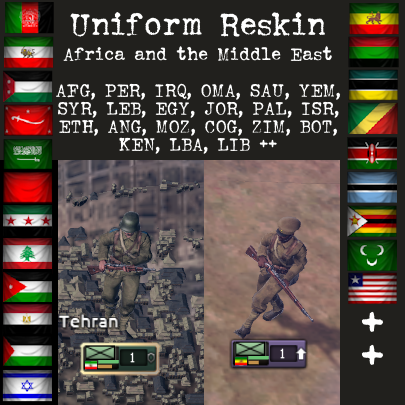 Author:
McNaughton
Last revision:
3 Nov at 01:33 2018 UTC
Description:
MAJOR UPDATE NOVEMBER 2, 2018
Please unsubscribe and then resubscribe to get full effects of changes. Please update in regards to whether or not it still crashes at start. If so, try the following…
MOD CRASHES
1. Check your mods, if you have exceeded 900mb your game will crash at loading.
2. If your game crashes during the game, try unsubscribing and subscribing again to all of the mods. With updates to my mods, sometimes Steam leaves residual bits, but by unsubscribing and resubscribing it seems to have eliminated these errors.
3. Check your error logs to see why the game crashed. C:Users***COMPUTER NAME***DocumentsParadox InteractiveHearts of Iron IVlogs
4. Try deactivating the mod(s), load game, quit, reactivate the mod(s)
5. Try this solution found by Acbh: Game crashes (DLC or not) and checksum errors
MOD DETAILS
After the next patch 1.6, I will add tags for the new African and Middle East nations created in it.
This mod is an attempt to take nations region by region, and to apply authentic (ish) looking models for them.
When making this mod, liberty had to be taken when dealing with some nation's equipment and uniforms. There was very little information for most nations covered by the Middle East and Africa, and some other liberties taken with uniform design (no shorts or short sleeve shirts, as would be awkward with winterized clothing). Why do nations like Libya, Angola, Mozambique, etc. start with grey or greenish grey uniforms? That would be their temperate uniform, with the hot weather uniform being the light khaki.
Mechanized are primary Lorraine 37L and Lorraine 39L, I figure that these are 'generic' enough to represent mechanization better than applying all too familiar US, German, or Soviet equipment.
Complete Versions
Part 1: Scandinavia and the Baltic States
Part 2: Western and Central European Minors
Part 3: The Balkan States
Part 4: Asia and the Pacific Minors
Part 5: Middle East and Africa
Part 6: South and Central America
Part 7: Generic and Regional Family (pending)
Part 8: Poland (pending)
Part 9: France (pending)
Part 10: Italy (pending)
Part 11: United States (pending)
Part 12: Death and Dishonour DLC states (pending)
Part 13: Together for Victory DLC states (pending)
Part 14: Waking Tiger DLC states (pending)
Part 15: Japan (pending)
Part 16: Soviet Union (pending)
Part 17: Germany (pending)
Use the LITE versions if you are not playing a nation in the pack. For example, if you are playing Switzerland, use the FULL version of Western and Central European Minors, but use The Balkan States LITE and Scandinavia and the Baltic States: LITE. This will help alleviate problems with the 900 mb mod limit.
Part 1: Scandinavia and the Baltic States: LITE
Part 2: Western and Central European Minors LITE
Part 3: The Balkan States LITE
Models based from those found in Die Wehrmacht