-Minor Immersion Reskin: Middle East & Africa-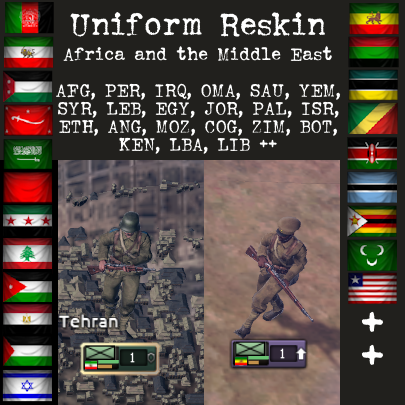 Description:
HELP REQUEST!
I have been using Maya Autodesk to create the edited graphics. My subscription (free) has run out a while ago. I would like to revise all existing (make them more diverse/accurate) and create new models (aircraft, late weaponry, etc.), but cannot warrant a $250.00 a month hobby ($500.00 for two months). I could warrant a $50.00 a month hobby.
I have experienced some great generosity from the community! Enough to cover one month of maya, plus a good start on a second! I am astounded by the response, especially the large donations that some had given!
Help the Mod at Paypal[paypal.me]
Thanks for any assistance!
MOD DETAILS
After the next patch 1.6, I will add tags for the new African and Middle East nations created in it.
This mod is an attempt to take nations region by region, and to apply authentic (ish) looking models for them.
When making this mod, liberty had to be taken when dealing with some nation's equipment and uniforms. There was very little information for most nations covered by the Middle East and Africa, and some other liberties taken with uniform design (no shorts or short sleeve shirts, as would be awkward with winterized clothing). Why do nations like Libya, Angola, Mozambique, etc. start with grey or greenish grey uniforms? That would be their temperate uniform, with the hot weather uniform being the light khaki.
Mechanized are primary Lorraine 37L and Lorraine 39L, I figure that these are 'generic' enough to represent mechanization better than applying all too familiar US, German, or Soviet equipment.
Complete Versions
Part 1: Scandinavia and the Baltic States
Part 2: Western and Central European Minors
Part 3: The Balkan States
Part 4: Asia and the Pacific Minors
Part 5: Middle East and Africa
Part 6: South and Central America
Part 7: Generic and Cultural Generic
Part 8: Poland
Part 9: France
Part 10: Italy
Part 11: United States
*Break from producing mods, going back to Maya to revamp models (greater accuracy, more models). Will complete 12-17 in the new year.
Part 12: Death and Dishonour DLC states (pending)
Part 13: Together for Victory DLC states (pending)
Part 14: Waking Tiger DLC states (pending)
Part 15: Japan (pending)
Part 16: Soviet Union (pending)
Part 17: Germany (pending)
Download
Revisions:
Old revisions of this mod are available below. Click the link to download.