Too Many Ideologies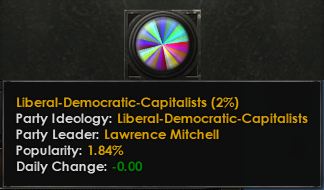 Description:
This mod is primarily a tool I made for modders, but is still able to be played (But I doubt it'd be much fun, as there are no custom focus trees, or even advisors…)
Features:
Adds 48 Ideologies
Adds custom Ideology changing events
Nations of similar ideologies are more likely to accept diplomatic deals
Ideologies are every combination of:
c (Capitalist), m (Statist/Mixed), s (Socialist)
a (Anarchist), d (Democratic), o (Oligarchic), m (Monocratic)
p (Progressive), l (Liberal), N (Nationalist), R (Religious/Fundamentalist)
The id for each ideology is ip_xyz
x = Economy (ex: m for Mixed/Statist)
y = Government (ex: o for Oligarchy)
z = Priority/Culture (ex: r for Religious/Fundamentalist)
So if you wanted to change to a Religious Statist Oligarchy (basicallt a theocracy), you would type the command:
set_ruling_party ip_mor
Again, this is mostly for modders, so I won't be adding any features (probably). I only made this, cause I'm using it for another mod, and thought I could at least give this. Hopefully it'll be used for something.