Victoria II UI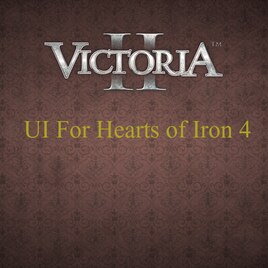 Author:
Drowse
Last revision:
4 Mar at 05:50 UTC
Description:
A functional UI based on the Victoria II UI. All buttons work as you would expect even the tool tips.
Will keep on updating with new assets.
This mod was design for 1920 x 1080 monitors and may not display correctly at lower resolutions.
Use UI scaling to fix the art for lower resolutions.
The UI was tested in Vanilla and may not display correctly with other mods that edit the gui.
if you see a glitch while in Vanilla message me with a picture and a basic description.
Feel free to use this mod for any of your own works. I can't take credit for the art in this mod
if you like my work please check out Fuhrerreich which I am a contributer
If you REALLY like my work please consider donating. [paypal.me]
Every little bit helps but in any case I will keep updating the mod.
For the complete Vic 2 experience check out this Victoria music mod