Army of Iron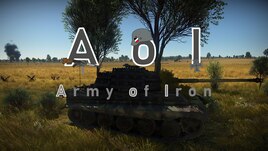 Description:
Army of Iron
Because you obviously dont have a clue what the name of this mod is yet
Check the thread in the discussions for all mods I directly used and what mods I took ideas from, if you're the creator of one of them and want them removed, contact me.
Please check out this list of influential mods and ideas and rate the individual mods.
A collection of my own and other peoples mods and ideas, all combined into one mod that is constantly being developed while retaining a the original feeling of base-game HOI4.
What does this mod do?
This mod does a lot of things as it is an attempt to change everything I figured needed improvement in the base game, along with adding new mechanics and things that add to the base-game experience.
A few "major" features of this mod
Many more decisions and formable nations, all of which are serving a purpose with only one no-brainer decision.
Focus tree and event adjustments to many nations.

Germany no longer needs to have a civil war to bring back the Kaiser or become democratic, although this brings other disadvantages.

Italy can now continue its focus tree if they somehow manage to lose in Ethiopia, although the Italian people won't like it.

The Soviet "Collectivist Propaganda" Branch is now a considerable choice.

A War Exhaustion mechanic based on the Endsieg mod.
Make demands with political power without going to war over everything.
A state transfer-tool in case you ♥♥♥♥ed up peace conferences.
Puppet Manager so you can finally get rid of Burger Qing (Manchukuo).
A lot of graphical "improvements", equipment icons and proper equipment localisation for most nations.
Speeches you can listen to during the game.
A lot more music with according triggers so they do actually play during the game.
Adjustments to defines for minor gameplay improvements.
Increased Resources.
Allied construction projects.
Proper Partisans (https://steamcommunity.com/sharedfiles/filedetails/?id=1365924161)
Compatibility and Language Support
This mod only supports English. You can play with other languages, but they're not localised properly so it won't be as immersive.
Compatibility with other mods is extremely limited. Do not attempt to combine this and major conversion mods like Kaiserreich or Road to 56. Mods that add decisions and graphical mods might work but I don't guarantee they do.
This mod is constantly being developed and updated, if you feel like a certain thing could be added/changed, feel free to suggest them in the threads below.
History of this mod
Hearts of Iron IV is a great game that has taken up a lot of my time for years now, but the more I played the more aspects I noticed that could in my eyes be changed for the better. So I started developing this mod in late 2017, back then as a collection of many other mods so me and my friends wouldn't need to download half of the workshop every time we wanted to play. Over the following months I noticed that it all wasn't as simple as just copying folders and moving files as crashes and bugs were a common occurance. So when I had the time I figured I'd try my best at fixing these all these issues to make everything work flawlessly.
So I did and this is what I ended up with.
Happy invading.