Too Many States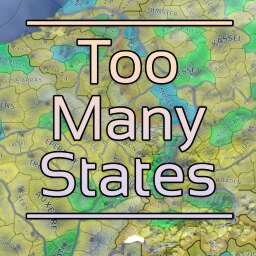 Description:
A very basic mod. I've added ~2100 new states to the game (quadrupling vanilla state count), starting in Europe and Africa, now spanning Siberia. I've started to add some tags, and now the mod covers India! 🙂
I haven't done the population, but at least I can say it might be fun in the future. Test it out though, it's good
You'll need a decent PC to run it. Expect some lag later-game.
Current Version:
Expansion 14 (v0.14) "The Northern Cliques"
Sinkiang, Xibei San Ma, Shanxi, Mengkukuo, Manchukuo, Tibet
Next Version:
Expansion 15 (v0.15) "The East Asian Theater"
China, PRC, Japan, Guangxi Clique, Yunnan
(3/28 or around then)
If you don't want your saves breaking every week or so, consider subscribing to Too Many States, Long Term Support.
Link: https://steamcommunity.com/sharedfiles/filedetails/?id=1658292063
DISCORD SERVER
https://discord.gg/Fckn2Va