Castle Wolfenstein V2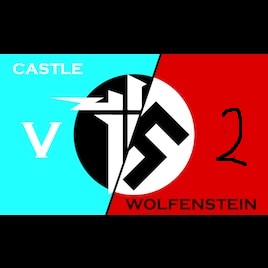 Description:
*** THIS IS A REMAKE OF SCOTUK101'S MOD THAT HAS BEEN MADE TO WORK WITH THE NEWEST VERSION OF HOI4***
I will continue to update this as the game updates to fit it
————————————
CASTLE WOLFENSTEIN V2
————————————
DESCRIPTION:
This mod essentially adds a new country based on the SS faction in the Wolfenstein series, allowing two players to play as Germany.
The New Order has a custom leader and flag, along with new custom generals, admirals, ace pilots and advisors/designers.
MOD FEATURES:
– Adds a new country (the New Order) based on the SS faction in the Wolfenstein game series, essentially splitting Germany into two countries (the New Order and the German Reich)
– Adds Castle Wolfenstein as a new victory point/capital city on the map
(the location of Castle Wolfenstein varies throughout the games, so I picked a solitary mountain near central Germany for its aesthetic location)
– Custom generals/admirals/ace pilots for the new country based on Wolfenstein characters
– Adds a few new traits fo use with the new generals/leaders
– Replaces several of the unit icons with wolfenstein logos for use with the Division Designer
– Adds various skins for the New Order units based on units in the wolfenstein games
* Standard Infantry/Artillery/Cavalry > New Order Trooper
* Motorized Infantry > SS Trooper
* Mechanized Infantry > Afrikacorps Trooper
* Mountaineers > Experimental Supersoldier
* Marines > New Order Marines
* Paratroopers > Deathshead Commandos
– Two simultaneous events near the start that allow you to determine how much German territory you want to control and whether you want to be independent, remain a puppet, annex all of Germany or puppet them instead.
(country starts off initially as a puppet of Germany and a member of the Axis faction)
CREDITS:
I used the port of the German/Soviet soldier model from the base game used for Skyllio's mods, mainly so that the New Order had a seperate skins for various troop types.
This was then retextured by myself. This was mostly for convenience as I couldn't find an effective way to port the .mesh files from the base game into a modelling program to change the skins assigned to the model.
Can be found here: http://steamcommunity.com/profiles/76561198035083616/myworkshopfiles/?appid=394360
There is another Wolfenstein conversion mod which initially inspired me to create this.
'Hearts of Wolfenstein' http://steamcommunity.com/sharedfiles/filedetails/?id=745895077&searchtext=wolfenstein
I wanted to expand on the initial concept of a Wolfenstein conversion but create a seperate faction with more custom generals that could operate in the game alongside Germany, making it possible to essentially play a co-op game with two players as Germany.
This is my first Hearts of Iron mod and as such the MrKmproductions modding tutorial series was extremely useful as an introduction to modding with Hearts of Iron 4.
https://www.youtube.com/watch?v=zTQiB5z0Plo&list=PLBGZyYzya9TUnpm8XTmbIbSabungljqzk&index=1
— RUSSIAN TRANSLATION —
Kulac the Greatest
has kindly provided a Russian translation of the mod.
You can check out his other stuff on TBMods here https://tbmods.ru/?p=4733
—————————
NB: Feel free to use any part of this mod in whatever way you like and if you encounter any issues or bugs then let me know and I'll try to fix them for future versions of the mod.
– ScotUK101 –