Easier Victoria Louise and HRE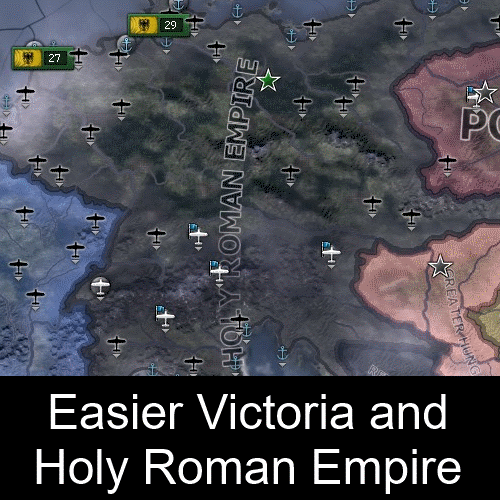 Description:
Going through the monarchist German focus branch in Waking the Tiger, it's possible to have Victoria Louise become Kaiserin. If Victoria is the leader of Germany, you can also form the Holy Roman Empire. However, the requirements are somewhat strict and require some RNG:
– The Netherlands have blocked Wilhelm II from becoming Kaiser
– The Hindenburg has not been destroyed (the "Air Safety Regulations" decision will prevent it)
– England has 100 opinion towards Germany
– Enacted the "Reinstate Prince Wilhelm's Right of Succession" and "Modernize the Succession Laws" decisions (requires Wilhelm III as Kaiser)
– Completed the "Alliance with the Shade" focus
– Enacted the "Request Restoration of British Titles" decision
When the Hindenburg crashes in London, Victoria will be the only survivor of the royal family and become Kaiserin. From there, you can form the HRE. But this prevents you from reforming the Central Powers with Italy and Austria-Hungary. This mod changes the requirements of both forming the HRE and having Victoria become Kaiserin. Essentially, it's easier to kill off the royal family. The different requirements have been changed:
– The two succession decisions will work with Wilhelm II or III
– Requesting restoration of titles requires only 50 opinion and not the focus
– Holy Rome can be formed with Wilhelm II, III, or even August von Mackensen
So now, you can have Wilhelm leading Holy Rome alongside Italy and Austria-Hungary. And as a bonus, you can also form the European Union as any ideology; it's normally reserved for either democracies or Mosley.