Millennium Dawn: South Korea Submod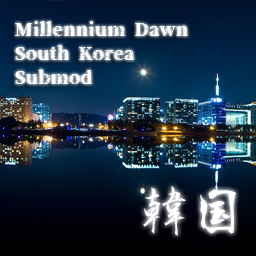 Description:
[For Millennium Dawn Mod 1.7]
First, I am not an English speaking person and can not speak English. This mod is a simple submod, but there may be grammatically incorrect English. I'll fix it if you point.
This submod adds a whole new South Korea national focus and national idea for Millennium Dawn 1.7 users. In addition, some of the original Millennium Dawn's south korea errors have been corrected.
[Modified data]
– New National focus of South Korea
– Added New South Korean politicians. (Roh Moo-hyun, Lee Myung-bak, etc.)
– The 2000 scenario changed Korea's election from once every four years to once every five years.
– Some politicians were given new portraits. (Sim Sang-jung, etc.)
– Politicians who were in the wrong party, were reassigned to the right party. (Hong Jun-pyo)
– Other minor modifications
Classic Ver South Korean Submod:
https://steamcommunity.com/sharedfiles/filedetails/?id=963118874
Download
Revisions:
Old revisions of this mod are available below. Click the link to download.