Kaiserreich Submod – Norton Restoration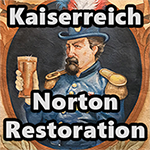 Description:
This is a submod for Kaiserreich that adds a monarchist political path for the Pacific States of America.
Details
You can elect the Imperialist Party (AutDem) during elections, and going down their tree unlocks a constitutional monarchy under Norton II. I've picked Norton I's great nephew, Charles Ross Norton, as his successor. Charles was alive and living in South Africa during the game's timeframe. I've used an actually picture of him as well (aged up a bit though).
You are still able to do primaries and elect the Republicans, Democrats, etc. and go down their trees. Norton will continue to be head of state and the would-be presidents instead become Head of Government ministers.
Credits
Download
Revisions:
Old revisions of this mod are available below. Click the link to download.