Novum Vexillum: More Ship Name Submod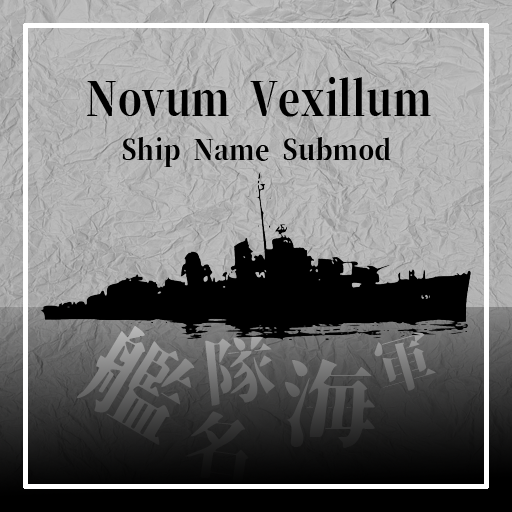 Description:
Mod Description
First, I am not an English speaking person and can not speak English. This mod is a simple submod, but there may be grammatically incorrect English. I'll fix it if you point.
This submod is designed as a submod for Novum Vexillum. This submod adds the G20 (except European Union) and the name Taiwan can use in ship design. Taiwan shares ship names with the People's Republic of China.
This submod allows theme ship names (city names, province names, etc.) from the original Hearts of Iron IV to be available to Novum Vexillum.
It also provides a completely new warship name for emerging countries, such as South Korea and India, which did not exist during World War II, but are now important.
Added Ship Name
Japan
– Theme ship name of original HOI4
– World War II Aircraft Carriers
– World War II Battleships
– Admirals
– 19th Century Warships
– Sengoku Jidai
– Artists
South Korea
– Independence Activists
– Cities
– Twenty Four Solar Terms
– Artists
– Regions
– Democracy Activist
Russia
– Theme ship name of original HOI4 (Soviet Union)
– World War II Battleships
– Artists
– Slavic Mythlogy
– Presidents (1919 ~ 2000)
PRC & Taiwan
– Romance of the Three Kingdom
– Regions
– Cities
Germany
– Regions
– Norse Mythlogy
– Chancellors (1867 ~ 1933, 1949 ~ 2000)
– Nazi Leaders (only fascist, nationalist, and reactionary governments)
India
– Theme ship name of original HOI4
– Independence Activists
– Hindu Mythlogy
France
– Theme ship name of original HOI4
– Presidents (1848 ~ 1940, 1947 ~ 2000)
– Vichy France Leaders (only fascist, nationalist, and reactionary governments)
Argentina
– Presidents ( ~ 2000)
USA, Canada, Australia, Mexico, England, South Africa, Italy
– Theme ship name of original HOI4
Indonesia, Brazil, Turkey, Saudi Arabia
– Regions