Vicky 2 in HOI4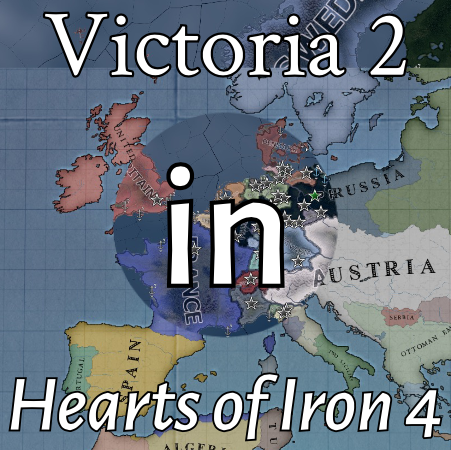 Description:
The Victoria 2 to Hearts of Iron 4 mod project is essential End of the New Beginning but is more of a mod for people messing around with friends and the such. It's basically how the old and new Millennium Dawn work.
With this project we expect to add in more as we go along the way (we have only five devs and a few helpers currently), such as:
Custom expansive focus trees
More decisions
Improved colonization
More African nations
African colonization
More GFX (portraits mainly)
Scripted GUIs
The mod is in a very alpha state with only countries and basic colonization in right now. It's still fun to ♥♥♥♥ around in it though with other mods though so uh
Yea have fun and stuff, make sure to not commit genocide! (or declare war on the "uncolonized land" nation thingo!)
o7
Discord: https://discord.gg/e4xtRWb
FULL CREDIT FOR THE MAP AND CURRENT GENERAL FOCUSES, GFX, AND MANY MORE GOES TO THE VICTORIA 2 TO HEARTS OF IRON 4 CONVERTER, THEIR MOD IS VERY FUN AND I RECOMMEND IT
Download
Revisions:
Old revisions of this mod are available below. Click the link to download.