New Generic Focus Tree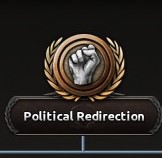 Description:
This is a focus tree designed for every nation that doesn't have its own focus tree.
Economy tree: This will help countries build up factories and infrastructure. Manpower can be gained from completing these focuses, which is very helpful for minors. Reaching "Economy Rebuilt" and "Strong Economy" takes time, but will receive a timed but strong bonus once completed.
Political tree: 4 different routes can be chosen for any country. The choice matters. Once a country completed the war effort, it will have a great interest engaging in world war.
-Historical focus is on: ai will take a path based on its current ideology.
-Historical focus is off: ai will randomly take a path. The chance for it to go non-allied is low.
International Support tree: Countries can receive international support based on its own and target's ideology.
Overall, this focus tree is ideal for alt history gameplay, historical focus also work well. Eventually, nearly all nations will be engaged in world war.
It is stronger than the default one, but not overpowered as it will benefit more for minors.