Stereotypical Countries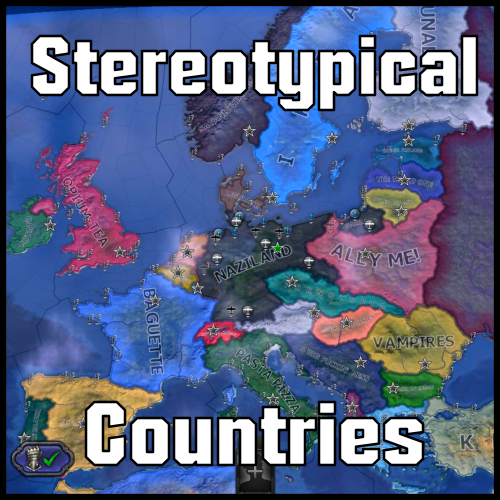 Description:
This mod changes every single country's name to something stereotypical or whatever I could come up with… The mod only changes the "localisation/countries_I_language.yml" so original names for some countries might show up in events, descriptions, national focuses… I did it this way to keep it Ironman Compatible, I might make a non-Ironman Compatible version which fixes this.
Check out some of my other mods here: http://steamcommunity.com/id/AleksThu/myworkshopfiles/?appid=394360
NB! This mod is not done, many of the names "suck♥♥♥♥♥quot; and serve as fillers, so if you have any ideas for better country names, I'd appreciate it 😉 Most the country names are currently the same for all ideologies, so if you come with a suggestion, you may say which ideology aswell.
Take the mod with a pinch of salt, it's purely for the "lol's" nothing more.
Disclaimer: This mod does not represent my views on anything
Download
Revisions:
Old revisions of this mod are available below. Click the link to download.