Viva España – A National Focus and Overhaul Mod for Spain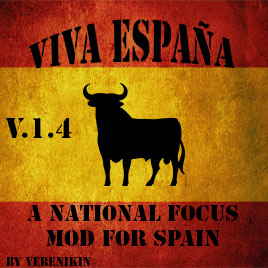 Author:
Verenikin
Last revision:
14 Mar at 12:16 UTC
Description:
RUSSIAN+SPANISH LOCALIZATION ADDED
MOD CAN ALSO BE FOUND IN HOI 4 BLACKICE
FEATURES:
– 72 New National Focuses, all made for Spain with custom rewards and text.
– GFX pictures for ships courtesy of Cpack
– A new design company which interacts with a focus.
– Lots of flavor in the focuses.
What can you do?
Take back your former colonies! Take back Gibraltar! Spread your ideology (either by force or by peaceful means) to Portugal, seek help from your allies in designing better tanks, and lots of other things!
The first full National Focus mod for Spain. Spain is a nation with lots of options, but no NF tree. I've decided to change that. This tree adds flavor as well as new options for anyone playing Spain.
If you wish to translate the mod into your own language, feel free to do so. You can send me the localization and I can add it to the mod, with credits to you of course!
This mod is optimized for a 1936 start and has not been tested with a 1939 start.
I've made sure to adapt the mod to Spain, making sure that it is neither too OP nor does it nerf Spain.
Multiplayer compatible if all players have the mod.
COMPATIBILITY:
This mod should work with any mod that doesn't change the ideas and national focuses for Spain. This mod does NOT change the events or the technologies for Spain, and as such should work with any mod that does so. If you get compatibility issues let me know and I will do what I can. I will do my very best to make sure this mod can be used with as many other mods as possible.
SUGGESTIONS:
All focus trees have room for expansion, this one included. If you have any ideas about what I could add, or perhaps if you have any idea about adding better / more historically accurate focus text/flavor, please let me know. I am not a native Spaniard and as such I don't have a great deal of knowledge about Spanish history outside of what I've read for my own enjoyment, so if something is incorrect do not hesitate to notify me!
DON'T FORGET TO RATE IT IF YOU LIKE IT!
CREDITS:
Russian localization: Nick
Spanish localization: Spanish☭Comrade #TeamHeavy
Polish localization: Sano2
GFX (2D) pictures: Cpack
Check out my Danish NF focus mod too (also has Spanish localization!):
http://steamcommunity.com/sharedfiles/filedetails/?id=706983643
Check out my Japanese NF focus mod:
http://steamcommunity.com/sharedfiles/filedetails/?id=835475743