Guns Trucks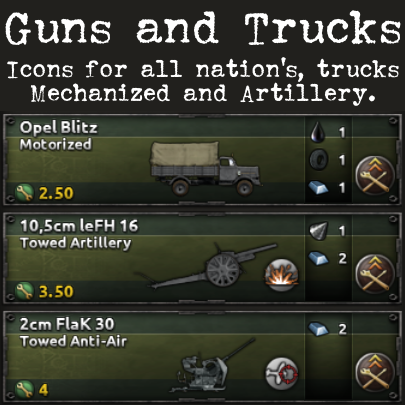 Author:
McNaughton
Last revision:
24 Aug at 18:14 2017 UTC
Description:
General: This mod replaces all artillery, trucks, and armoured personnel carriers with (generally) historic equipment for all nations. Some choices were made as to what guns would be represented for historic accuracy and plausibility. Given very few nations every reached the same level of modern equipment as the majors, one has to hypothesise as to what would be the most likely equipment.
Q&A – Some preemptive questions and answers…
Q: Is this Ironman/awards compatible?
A: To the best of my knowledge, yes. Changes are GFX, Interface, and Localization. As far as I know, changes there do not affect Ironman limitations, but, am not 100% sure.
Q: Is this multiplayer compatible?
A: Yes, you may run this mod and your friend's may not run this mod and everything should work well.
Q: Is this save-game compatible?
A: Yes, you should be able to apply this mod and continue any saved game with full effect.
Q: Is this mod compatible with other mods?
A: Depending upon the mod, it should. Any mod that affects graphics and names of artillery, trucks, and armoured personnel carriers may have conflicts. Any mod that drastically modifies small arms (BlackIce for example), is not compatible, although does effectively replace many pieces of equipment.
*Eventual goals are for 100% Kaiserreich compatibility.
Q: Where did the heavy artillery and anti-aircraft go?
A: I decided that given HoI4 was a division-based game, and this heavy weaponry was primarily left to Corps/Army support (heavy Anti-Aircraft is represented by provincial batteries), that Field Artillery and Field Automatic Anti-Aircraft is best represented. Vanilla HoI4 had progression of equipment almost totally based upon weapon size (20mm to 40mm to 75mm anti-aircraft for example), even though historically this was not the case (all scales appeared about the same time, with improved models appearing over time for all). Since models replace others, it does not make sense for 1944 divisions to be full of 155mm Field Guns and 90mm Anti-Aircraft when their To&E was 105mm Howitzers and 40mm Anti-Aircraft.
Q: What is covered in this mod?
A: Artillery (Field Artillery), Anti-Aircraft (Field Anti-Aircraft), Anti-Tank, Rocket Artillery, Motorized, Rocket Artillery, Trucks, and Armoured Personnel Carriers.
Q: Can I use this mod in my mod?
A: Yes AND no…
Yes if, your mod requires modification to small arms, such as additional nations, or additional levels of equipment (i.e., 1946 small arms).
No if, your mod just copies everything of this mod and places it in a collection while it would work perfectly well if you ran my mod with your mod.
Q: Why did you use EQUIPMENT A instead of EQUIPMENT B?
A: Creative decisions, plus maybe ignorance. Let me know if there is a better choice (I prefer to use actually produced guns over those that were never out of prototype stage even with opportunity).
*Halftracks vs. Universal Carrier (The UK was a MG carrier, Mortar Carrier, and too small to be a proper APC).
Q: What nations have images AND equipment descriptions?
A: AFG, ARG, AST, AUS, BEL, BOL, BRA, BUL, CAN, CHI, CRO, CZE, DEN, HOL, INS, ENG, EST, FIN, FRA, GER, GRE, GXC, HUN, IND, IRE, ITA, JAP, LAT, LIT, MAN, MEN, MEX, MON, NOR, NZL, PER, POL, POR, PRC, RAJ, ROM, SAF, SER, SHX, SIA, SIK, SLO, SOV, D01 (Spain Nationalist), SPR, SWE, SWI, TAN, TUR, USA, PHI, XSM, YUN, YUG