Hearts of Ideologies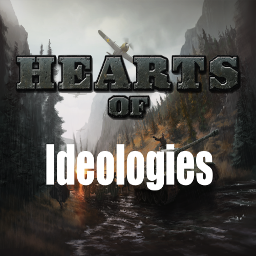 Description:
For anybody who would like to help, join our discord (See link in discussion below) or go to the github repository; submit what you want to add or change. Link:
https://github.com/TitaniumRogue/ideologies
Otherwise if you would like to submit anything, but don't know how, send it to this email:
[email protected]
Hello, wonderful people of the internet! Today I bring you my second ever mod, which overhauls the current ideology system and replaces the 4 pre-existing ideologies with 22 new ones! (Technically 21, as fascism is still an ideology).
Here is a list of all the new ideologies:
Democracy:
Social Liberalism
Libertarianism
Social Conservatism
Progressive
Social Democracy
Democratic Socialism
Reactionary
Christian Democracy Social Conservatives, but liberal in terms of civil rights and foreign policy
Authoritarian Democracy
Democratic Nationalism
Fascism/Far Right:
Fascism
National Socialism
Nationalism Think of Metaxism or proto-fascists.
Fascist Monarchy Basically, Japan (Maybe Hungary)
Socialism/Far Left:
Leninism Trotskyism
Stalinism Marxism-Leninism
Anarcho-Communism
Moderate Communism
Authoritarian:
Despotism A less nationalist dictatorship. Used basically for colonies, like the British Raj.
Monarchism
Theocracy
Stratocracy A military government/junta
Progress Report:
(These are in order in which I will be working on them)
History Files/Starting Politics: Done!
Country Names: Only releasable nations are left to be done
Event Fixes: Done!
National Foci Fixes: Done!
National Spirit Fixes: Done!
Flags: Done!
Advisors/Political Functions: Done, will be revamped sooner or later
Party Names: ~30-40% A good percent of Europe
Leaders: More leaders/portraits are being worked on for additon in the coming year
Potential Features:
Reworked National Focus Trees for Major Nations
More Events
More Cosmetic Tags
Revamped Autonomy System
That's it for now. I will try update this whenever I can. I appreciate any feedback whether it be a suggestion or a criticism, it will help make this mod better!
Devs:
Titanium Rogue
Kano901
Pan Marszalek
Sharkman34
kstar234
Mbites
MrLukeNL
Rokim21
Santa Shrio
Contributors:
ThatGuyy
Camberino
DinseltHeated
Hawei148
SOBONU
Papa Meme