A Millennium Dawn Submod: Turkish March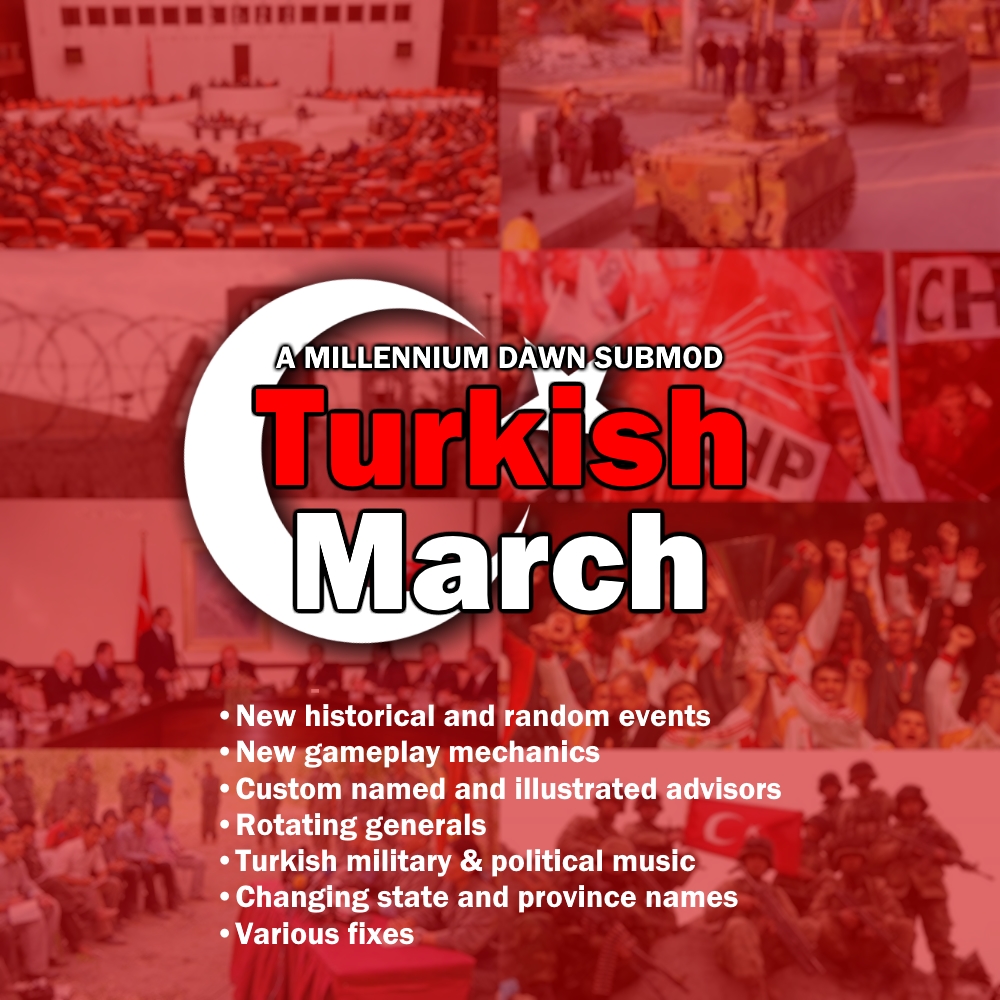 Author:
Ozge Katip
Last revision:
31 Oct at 01:58 2017 UTC
Description:
DISCLAIMER:
This mod does not aim to promote, defame or condemn any person, country, authority, ideology, belief or way of policy. While inspired by historical and current-day events, it is by no means an authoritative source on them and cannot replace actual, pluridisciplinary research on the issues depicted within. All names, characters, and incidents portrayed in this submod are fictitious. No identification with actual persons (living or deceased), places, buildings, and products is intended or should be inferred.
Turkish March is a submod for Ted52's Millennium Dawn: Modern Day Mod focused on bringing more content and lore for Turkey players. Aiming to make Turkey playthroughs more authentic, interesting and challenging, the submod is the results of more than two months of research and coding, with hopefully enjoyable results. Just like the mod it adds content for, Turkish March is still highly experimental, so make sure to report any issue you're facing. You may also check the changelog for a more complete list of features and mechanics.
Life-saving advice:
Only play with the 2000 start. 2016 is broken.
Wait until at least November 2002 and 50+ stability before switching to a radical ideology to fully enjoy this mod.
Your political power supply is limited. Researching focuses non-stop isn't always a good idea.
REVISIT THE EARLY YEARS OF 21ST CENTURY TURKEY
Relive historical events from 2000 to 2002 such as prison reform, the economic crisis or the 2002 early election: will you stick to history and watch as a certain Erdoğan's AK Party rises, or try to forge an alternate path?
Choose custom named and illustrated political advisors to guide your nation towards greatness.
EXPERIENCE NEW GAME-CHANGING MECHANICS
Want to switch to islamic or communist Turkey? Your country's stability is disastrous? You will have to face the full wrath of the military establishment, willing to do everything to preserve the Republic… even overthrowing you.
Face the Turkey-PKK Conflict, the Kurdish Separatism national spirit has been expanded, featuring random events with negative impacts for your nation appearing more or less frequently depending on how you deal with them,
Tired of the same generals of the 2000 start? With the Supreme Military Council held every year, your starting generals will retire and gradually be replaced by those of the 2016 start.
WAIT, THERE'S MORE!
Playing as a country known for an economy significantly depending on tourism revenue? Every summer, you will get a hefty bonus for peak tourist season, but you need to keep your country stable and in peace.
Elections have been overhauled, with the most popular party now winning. Make sure to win at least 30% in order to avoid the coalition government debuff idea!
International organizations play a larger role for all concerned countries, providing either a National Spirit or opinion modifiers.
Watch as provinces and states you subjugate are renamed in good ol' Turkish names.
Numerous little other fixes and nitbits, such as changes to the political scene in other Turkic countries.
The mod is far from being finished, and more features such as a unique focus tree and more historical events are in the works.
RECOMMENDED SUBMODS:
Depending on your tastes, you might have a more enjoyable playthrough with the follocwing submods:
INCOMPATIBILITIES:
This mod is currently incompatible with any mod that :
modifies Turkey's starting setup, OOBs, flags, country names, events and ideas
adds AND replaces a country's custom advisors with unique, custom advisors (partial. You can still see the custom advisors, but they won't replace the generic ones.)
modifies the standard decisions file,
adds new events for Azerbaijan,
modifies the Dodecanese, Aegean Islands, Northern Cyprus and Adana states,
OTHER MD TURKEY SUBMODS BY OTHER DEVELOPERS
Turkish March isn't the only Turkey submod for Millennium Dawn out there, and is certainly not the first. If they interest you more, you can always check out the following submods:
CREDITS:
Ted52 for the Millennium Dawn mod,
Family and Friends, for their understanding and patience,
0wikipedia and Wikiwand, for letting me circumvent the ban on the Encyclopedia,
The Millennium Dawn Discord server, an ever lovely and friendly place for exchange and learning,
Mirgün Cabbas, 2001: Eski Türkiye'nin Son Yılı, 2017, Can Yayınları