World War Two – Rebalanced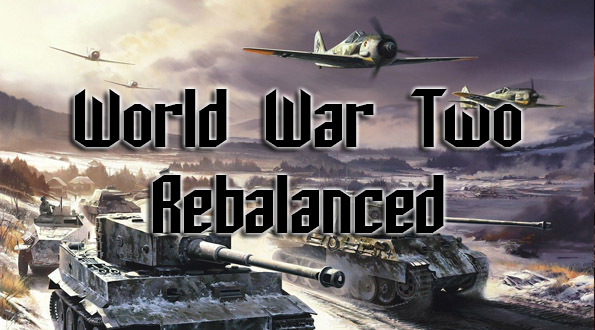 Author:
SpartanTom
Last revision:
16 Oct at 23:12 UTC
Description:
Version : WW2 R 2.2.47
World War Two – Rebalanced is a historical mod made to improve the game experience. The main goal of the mod is to bring fun, balance and history together. The mod is made for multiplayer but can also be enjoyed in singleplayer. At the moment the mod in only available in English and French.
New focus trees and events to give the advantage to the axis at the begining of the war until being gradually caught up by the allies. Events and focuses such as : Barbarossa, Their Finest Hour, Order n°227, Operation Neptune,…
Feel free to give ideas, advices, complains and bugs reports in the comment section. Since English isn't my mother tongue you might find some spelling and syntax errors, let me know and I will correct it. I would be happy to read what you post.
I am currently working on new contents but if you have something you want to be done in the mod let me know in the comment section. If it's historical and balance I will probably add it to the mod.
This mod is currently available in English and French. (Translated in French since version 1.1.21)
Ce mod est actuellement disponible en français et en anglais. (Traduit en français depuis la version 1.1.21)
Main features :
Focus Tree :
Focus tree updated for all major countries (France, UK, USA, USSR, Germany, Italy, Japan).
New Focus Tree for : Bulgaria, Siam, China, Spain, Norway Philippines and Finland.
Removing unhistorical part of focus tree for all minors.
Events :
A lots of new event giving gameplay choices or simply informing you on the world situation.
Historical fixes :
Spain will remain neutral if it's played by an AI.
More historicaly accurate China (Even if not perfect yet).
Rebalancing the ressources :
Africa and Asia aren't very usefull in Vanilla. So ressources were added there. But in order to not have a full of ressources mod all the Latin American ressources have been replaced in Africa and Asia. (Except for Brazil, Mexico and Cuba).
Weather is more critical than before in order to represent more the Russian winter or the extreme hot of the African deserts.
One province country with external influence have been merged to the influencer country (it reduce lag in late game).
Most Latin American countries are unplayble (Except Brazil, Mexico and Cuba).
Forced neutral countries to avoid unhistorical and unbalanced backstab.
A lots of common multiplayer rules addes in the game code; Such as max 5 fort + focus or no coup, removing some cores to avoid players from releasing nations during a war,…
And a lot more ! Check the "change notes" to see all the changes.