Releasable States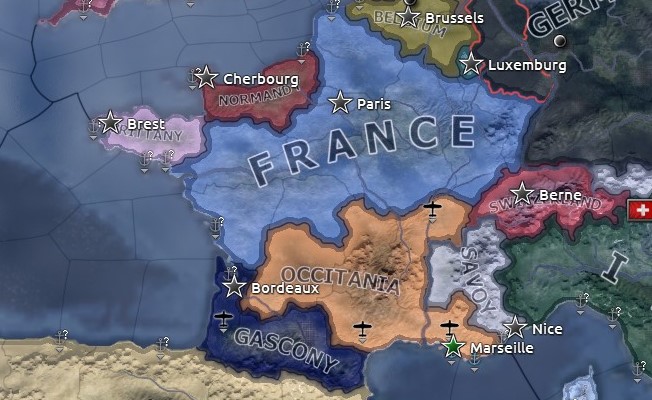 Author:
RisingSun
Last revision:
25 Apr at 01:27 2018 UTC
Description:
Alpha 0.9.7 – 1.5.3 Fix
~~~~~~~~~~~~~~~~~~~~~~~~~~~~~~~~~~~~~~~~~~~~~~~~~~~~~~~~~
Have you ever wanted to balkanize the HELL out of europe?
Well now you can with this mod!
The releasable states mod adds a TON of releasable countries to puppet!
WARNING! NATIONS DO NOT START OUT RELEASED!
But for those of you who would like to see the world start balkanized
there is a second start date where all the countries are released.
Created countries so far:
– Spain: – Catalonia, Aragon, Basque County, Galicia, Leon, Castile,
Andalusia, Granada, Valencia, The Balears
– France: – Normandy, Brittany, Gasgony, Savoy, Occitania, Corsica,
Orleans, Alsace, Paris, Picardy, Poitou, Burgundy
– Italy: – Sardinia, Sicily, Naples, The Vatican/Roma, Piedmont,
Lombardy, Veneto, Tuscany, Umbria, Romagna, Tyrol, Malta
– Benelux: – Flanders, Wallonia, Friesland, Holland, Brabant
– Britain: – England, Scotland, Northern Ireland/Ulster, Cornwall,
Wales, Northumbria, Kent/Sussex, London, Mercia, East Anglia
– Germany: – Prussia, Rhineland, Saxony, Hanover, Bavaria, Brandenburg,
North German Confederation, East Germany, West Germany, Baden-Wuttemburg,
Schleswig-Holstein, Tyrol, Westphalia, Hessen
– China: – Hong Kong, Macau, Beijing, Taiwan
– Japan: – Kyushu, Hokkaido, North Korea, South Korea, Micronesia
– India: – Burma, Ceylon/Sri Lanka, Bangladesh
– Russia: – Far East, Kazakhstan, Kyrgyzstan, Tajikistan, Uzbekistan, Turkmenistan,
Urals, Moscow, Novgorod, Crimea, Turkestan, Siberia, Kuban, Karelia
– Balkans – Macedonia, Slovenia, Bosnia, Slovakia, Czechia, Transylvania, Thrace,
Crete, Cyprus, Vojvodina, Moldova
– Africa – Sierra Leone, Ghana, Mali, Guinea-Bissau, Equatorial Guinea, Senegal,
Gambia, Central Africa, Nigeria, Niger, Mauritania, Morocco, Algeria, Tunisia, Sudan,
Gabon, Namibia, Madagascar, Somalia, Somaliland, Eritrea, Djibouti, Tanzania,
Western Sahara, Uganda
– America – Confederate States, Texas, California, Alaska, Hawaii, Washington,
New York, New England, Florida, Quebec, Cascadia, Oregon, Michigan,
Louisiana, Deseret
– Scandinavia – Nord-Norge, Greenland
SUGGESTIONS WELCOME
Credits to Wasa & Koreaball for some of the flags.
No longer compatible with Road to 56′ or any major mod.
Road to 56 compatible version Here:
http://steamcommunity.com/sharedfiles/filedetails/?id=1266403897