Legion Condor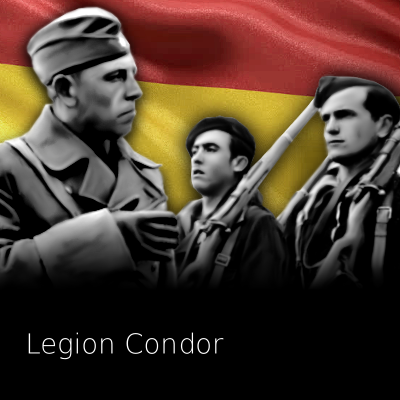 Author:
teof99
Last revision:
10 Mar at 23:18 UTC
Description:
Description:
This modification brings a historic scenario into your Hearts of Iron IV game: the Legion Condor. Playing as Spain, you can get access to a He-51 fighter squadron and a He-111 bomber squadron. Playing as the German Reich, you can also choose from two alternative support measures, besides "Legion Condor", which are the tank unit "Legion Stier" and the submarine fleet "Legion Haifisch". Decide if and how you will help Franco – this mod makes it possible.
Content:
– Spain: seven new events
– Germany: six new events
– Spain and Germany: nine new event pictures
– Germany: three new temporary effects
– Spain: idea "German military advisors"
– Spain and Germany: two new opinion modifiers
– Spain: "Jagdgruppe 88" and "Kampfgruppe 88" squadrons
– Spain: three "Legion Stier" tank batallions
– Spain: twelve "Legion Haifisch" submarines
Languages:
– English
– German
Requirements:
You just need Hearts of Iron IV.
Compatibility:
This mod should be compatible with every mod that doesn't change the game fundamentally. For example, it won't work with the "Millennium Dawn" mod. That should be obvious.
Notes:
1.) To enable an exact historic dating for certain events, this mod increases the event trigger frequency from 20 days (as in the vanilla game) to one day. This change could cause a slight increase of your PC's CPU utilization. If this is the case and the game becomes slower, you can delete the "defines" folder, which is located in "common/" in the mod's folder.
2.) The "Legion Condor" mod contains a picture of Adolf Hitler. This is absolutely free from ideological or political sympathies and simply serves a historical authenticity and clarity. The swastika flag and the portrait of Hitler in the screenshots, which are censored for the German market, are only used by me for my private game version and for the same reason I explained, but they are not connected with this mod. I want do distance myself from National Socialism and its political views officially.
3.) Although I have tested this mod for about a thousand times, there could still be some bugs like spelling or grammar mistakes (I am not a native speaker). If you find one, feel free to report it to me so I can correct it. Also, if you have requests or suggestsions to improve this mod, you may of course tell me about them.
4.) If you like this mod, I would be happy about an upvote. And if you don't, please tell me in a constructive (!) way, what exactly you don't like and what I have to improve or change.
Well, this is actually all I have to say.
Now I wish you a lot of fun with this mod!