Legion Condor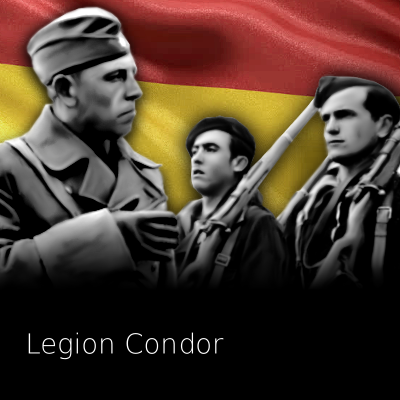 Author:
teof99
Last revision:
8 Sep at 14:27 2017 UTC
Description:
– English –
Description:
This modification brings a historic scenario into your Hearts of Iron IV game: the Legion Condor. Playing as Spain, you can get access to a He-51 fighter squadron and a He-111 bomber squadron. Playing as the German Reich, you can also choose from two alternative support measures, besides "Legion Condor", which are the tank unit "Legion Stier" and the submarine fleet "Legion Haifisch". Decide if and how you will help Franco – this mod makes it possible.
Content:
– Spain: seven new events
– Germany: six new events
– Spain and Germany: nine new event pictures
– Germany: three new temporary effects
– Spain: idea "German military advisors"
– Spain and Germany: two new opinion modifiers
– Spain: "Jagdgruppe 88" and "Kampfgruppe 88" squadrons
– Spain: three "Legion Stier" tank batallions
– Spain: twelve "Legion Haifisch" submarines
Languages:
– English
– German
Requirements:
You just need Hearts of Iron IV.
Compatibility:
This mod should be compatible with every mod that doesn't change the game fundamentally. For example, it won't work with the "Millennium Dawn" mod. That should be obvious.
Notes:
1.) To enable an exact historic dating for certain events, this mod increases the event trigger frequency from 20 days (as in the vanilla game) to one day. This change could cause a slight increase of your PC's CPU utilization. If this is the case and the game becomes slower, you can delete the "defines" folder, which is located in "common/" in the mod's folder.
2.) The "Legion Condor" mod contains a picture of Adolf Hitler. This is absolutely free from ideological or political sympathies and simply serves a historical authenticity and clarity. The swastika flag and the portrait of Hitler in the screenshots, which are censored for the German market, are only used by me for my private game version and for the same reason I explained, but they are not connected with this mod. I want do distance myself from National Socialism and its political views officially.
3.) Although I have tested this mod for about a thousand times, there could still be some bugs like spelling or grammar mistakes (I am not a native speaker). If you find one, feel free to report it to me so I can correct it. Also, if you have requests or suggestsions to improve this mod, you may of course tell me about them.
4.) If you like this mod, I would be happy about an upvote. And if you don't, please tell me in a constructive (!) way, what exactly you don't like and what I have to improve or change.
Well, this is actually all I have to say.
Now I wish you a lot of fun with this mod!
– Deutsch –
Beschreibung:
Diese Modifikation bringt ein historisches Szenario des Spanischen Bürgerkriegs in dein Hearts of Iron IV Spiel: die Legion Condor. Erhalte als Nationalspanien Zugriff auf ein He-51 Jagdgeschwader und ein He-111 Bombergeschwader. Oder wähle als Deutsches Reich neben der historischen "Legion Condor" eine von zwei weiteren Unterstützungsmaßnahmen für Franco aus: die Panzereinheit "Legion Stier" oder die U-Boot-Flotte "Legion Haifisch". Entscheide selbst, ob und wie du den Nationalisten helfen willst – mit dieser Mod hast du die Möglichkeit.
Inhalt:
– Spanien: sieben neue Ereignisse
– Deutsches Reich: sechs neue Ereignisse
– Spanien und Deutsches Reich: neun neue Event-Bilder
– Deutsches Reich: drei neue temporäre Effekte
– Spanien: Nationalgeist "Deutsche Militärberater"
– Spanien und Deutsches Reich: zwei neue Meinungsmodifikatoren
– Spanien: Fliegergeschwader "Jagdgruppe 88" und "Kampfgruppe 88"
– Spanien: drei Panzerbataillone der "Legion Stier"
– Spanien: zwölf U-Boote der "Legion Haifisch"
Sprachen:
– Deutsch
– Englisch
Voraussetzungen:
Du brauchst lediglich das Hauptspiel.
Kompatibilität:
Diese Mod sollte mit allen Mods kompatibel sein, die das Spiel nicht grundlegend verändern. Mit der "Millennium Dawn" Mod beispielsweise kann sie natürlich nichts anfangen.
Anmerkungen:
1.) Um eine genaue Datierung bestimmter Events zu gewährleisten, setzt diese Mod die Abfragefrequenz für Events von 20 Tagen (wie im Hauptspiel) auf einen Tag herunter. Dies kann unter Umständen eine Erhöhung der CPU-Auslastung zur Folge haben. Sollte das bei dir der Fall sein und das Spiel dadurch langsamer werden oder ruckeln, kannst du im Modverzeichnis unter "common/" den Ordner "defines" löschen.
2.) Die "Legion Condor" Mod enthält ein Bild von Adolf Hitler. Dies ist absolut frei von ideologischer oder politischer Sympathie und dient lediglich der historischen Authentizität und der Anschaulichkeit. Die Hakenkreuzflagge und das unzensierte Porträt Hitlers in den Screenshots verwende ich – aus demselben Grund – für meine private Spielversion; sie stehen nicht mit dieser Mod in Verbindung. Ich möchte mich nur noch einmal offiziell vom Nationalsozialismus und dessen Ansichten distanzieren.
3.) Auch wenn ich diese Mod gefühlt tausendmal getestet habe, können immer noch Fehler vorkommen – Schreibfehler zum Beispiel. Solltest du einen finden, dann kannst du ihn mir gerne berichten. Auch wenn du Wünsche oder Vorschläge für Verbesserungen an der Mod hast, kannst du mir diese mitteilen.
4.) Wenn dir diese Mod gefällt, dann würde ich mich über eine positive Bewertung freuen. Und wenn nicht, dann schreib mir bitte auf konstruktive (!) Art und Weise, was genau dir nicht gefällt und was ich deiner Meinung nach ändern bzw. verbessern sollte.
Und damit ist eigentlich alles gesagt.
Nun wünsche ich dir viel Spaß mit dieser Mod!