Great War Addon: Germany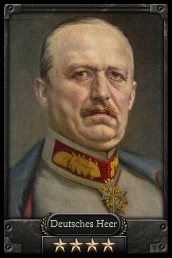 Author:
Comrader
Last revision:
4 Feb at 13:59 UTC
Description:
Mit Gott für König und Vaterland!
Ja, again the graphic addon for "The Great War Mod". The correct portraits of German generals (alive at the time of the outbreak of war).
-Works only with The Great War Mod and with another my addons.
-New portraits for german leaders.
-New traits and skills for generals
-Some generals were removed (either they were not the main participants in the war, or they died.)
-Added normal and diffuse textures for german infantry model (not very important, but now soldiers' boots shine)
H I S T O R I C A L L Y A C C U R A T E
If you have any questions or suggestions – please, write.
Also you can download my past addons, changing Russia and Austria-Hungary:
"Russian Pack": http://steamcommunity.com/sharedfiles/filedetails/?id=1220594366
"Soviet Leaders": http://steamcommunity.com/sharedfiles/filedetails/?id=1193867938
"Austria-Hungary": http://steamcommunity.com/sharedfiles/filedetails/?id=1278439641