Improved HoI IV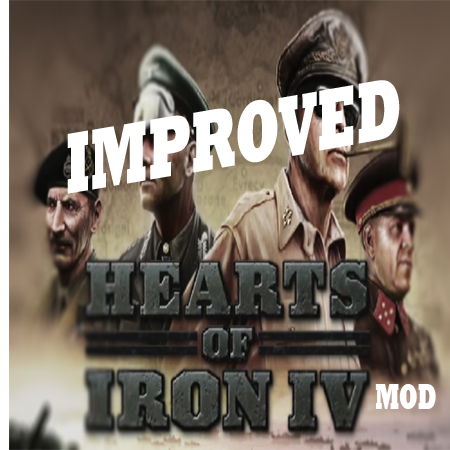 Author:
Sh1so
Last revision:
15 Mar at 13:51 UTC
Description:
Alpha Version 1.2.0
MORE INFORMATIONS ABOUT PATCH YOU FIND IN PATCHNOTES!
Do you want to do something better?
Do you think that vanilla limit you?
Do you want to do more than vanilla can ?
No Problem !
Welcome in my new mod that improve your live in this game. I know that vanilla is still unfinished so I want to complete dev's task. My mod is for somone who want to do something historically, or not. Something crazy, or common. I want to give you choice how you can play in HoI IV…
So I backing to reality :
I want to balance game and do game more interesting, but still normal :p
So what this rarely modification have:
-New exclusive music for Germany and Soviet Union, United States & its brother in arms: United Kingdom,
-Normal names for countries (Free Yunnan Empire, rly ?!),
-New corrected states & provinces (to expand :3),
-New nations to release (Implemented gradually),
-New flags (planned),
-More victory points,
-More events.
-And more planned future stuff 😀
If you want to tell me what else I can do, pls write this to the
future features discussion.
Are you saw bugs or problems? Pls write it to
Bug/Problems discussion.
Of cource, if u can (you can!), please rate it thumb in up and add it to favourite 🙂
NOTE: This is alpha version of mod so pls wait for future info.
So gl and hf…