Jozef's Vanilla-Style Imperial German General Portraits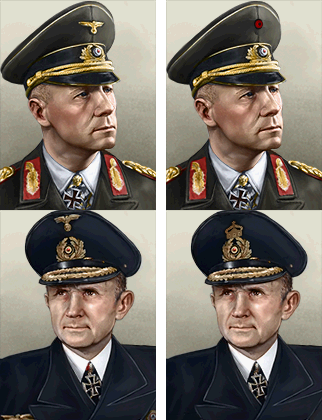 Author:
Jozef
Last revision:
8 Mar at 14:41 2018 UTC
Description:
Perfect for Waking the Tiger!
Play as the German Empire with generals and navy leaders in Imperial uniforms.
The Nazi eagle on the army leaders' caps has been replaced by the roundel of Prussia (black-white-black), Bavaria (silver-blue), Württemberg (black-red-black), Hessen (white-red-white) or Baden (gold-red). On the navy leaders' caps, it has been replaced by the Imperial German crown.
The SS leaders have been repurposed as hussars, and have on their caps, from top to bottom, a state roundel, a Totenkopf (either in silver or gold) and the Imperial German roundel (black-white-red). They also have Totenköpfe as collar tabs.
Mods of mine related to this one:
Jozef's Kaiserreich German Generals Portraits: http://steamcommunity.com/sharedfiles/filedetails/?id=1274586364
Jozef's Imperial German Veterancy Icons: http://steamcommunity.com/sharedfiles/filedetails/?id=1256283705
Jozef's Imp. German Newspaper Header – Vossische Zeitung: http://steamcommunity.com/sharedfiles/filedetails/?id=1266467433