Great Kingdom of Poland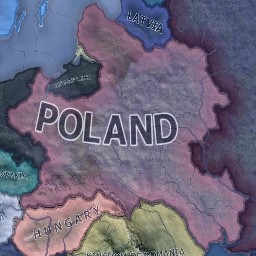 Author:
DystRojeR
Last revision:
14 Apr at 11:01 2018 UTC
Description:
Great Kingdom of Poland
This GREAT mod contains:
– Big focus tree for Poland which gives you many ways to restore Great Kingdom of Poland
– New Events
– Fixes in German and Soviet focuses.
Compatible with following languages:
-Polish
-English
Current Version: 1.02 Final
Updates Status:
I am currently working on new project and this mod is not my priority now but if you will find bugs,glitches etc. leave information about it and i will try to fix it as soon as possible.
Creator:
DystRojeR
English Corrections:
BumbleBee Fan
Next Mod: Something really BIG, coming in this year !
If you want full compatibility with all new DLC's , new better mods and more updates support me

SKINS: https://steamcommunity.com/tradeoffer/new/?partner=219047414&token=Hjf2tsFr
MONEY: https://www.paypal.com/cgi-bin/webscr?cmd=_s-xclick&hosted_button_id=9QD22YNL8WMSL