Great Kingdom of Poland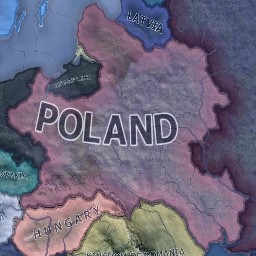 Author:
DystRojeR
Last revision:
9 Mar at 19:02 UTC
Description:
Great Kingdom of Poland ver. 0.995
This GREAT mod contains:
– Big focus tree for Poland which gives you many ways to restore Great Kingdom of Poland
– New Events
– Fixes in German and Soviet focuses e.g.:
Now germany will not give polish lands to soviets while poland is in axis.
and much more things…
Compatible with following languages:
-Polish
-English
**FINAL UPDATE STATUS**
Update 1.00 is near 🙂
If all goes ok and my free time will be enough this final update should arrive soon after release of patch 1.5 ,but I have to tell you that after last update i am going to end support of this mod.
One of reasons is that something new and much much bigger will come in this year as a new mod for Hearts of Iron IV.
Now with my experience it is gonna be more professional and it will not reach daylight until it will be finished.
Current Version: 0.995 Pre-Final (compatible with 1.5)
Creator:
DystRojeR
English Corrections:
BumbleBee Fan
Next Mod: Something really BIG, coming in this year !
If you want full compatibility with all new DLC's , new better mods and more updates support me