Immersive Music Mod – Allies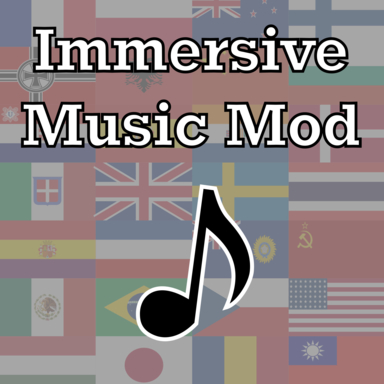 Description:
The Allied Powers
Countries:
-United Kingdom
-United States
-France
-Poland
-Netherlands
-Belgium
-Norway
-Greece
-Canada
-Australia
-New Zealand
-South Africa
-Rhodesia
-Philippines
Songs List
(Too many to list here!)
Immersive Music Mod
Featuring over 1,000 songs from the WWII era, the Immersive Music Mod offers the most comprehensive musical overhaul for the base Hearts of Iron IV. These are the same songs soldiers and citizens may have heard – either at home, on parade, or in the trenches. Each song was researched and confirmed to have existed in the time period (except for a few Communist China songs), which extends to accuracy in lyrics as well. Generally, songs with specific artists are featured in their original versions whereas choral and instrumental pieces focus on quality. Each song is set to tag or ideology, among other conditions, though you may switch to unweighted shuffle for the full WWII musical experience.
Vanilla songs have been weighted more heavily so they can still actually be heard. Owners of Together for Victory or Death for Dishonor DLC may actually want to nerf the factor weights for those songs, because apparently some developer thought we might want to hear "London is Burning" three times in a row. Simply go to the DLC music folders and tweak the numbers there.
Additional Compilations
Originally conceived as a single mod, the enormous file size forced me to split into three for the Steam workshop. You can find the links just below! (Note: Many historical Allies, as well as Axis co-belligerents, have been moved to Comintern+ for balance.)
Axis:
http://steamcommunity.com/sharedfiles/filedetails/?id=1326468377
Allies:
http://steamcommunity.com/sharedfiles/filedetails/?id=1326679427