Instant Country Unions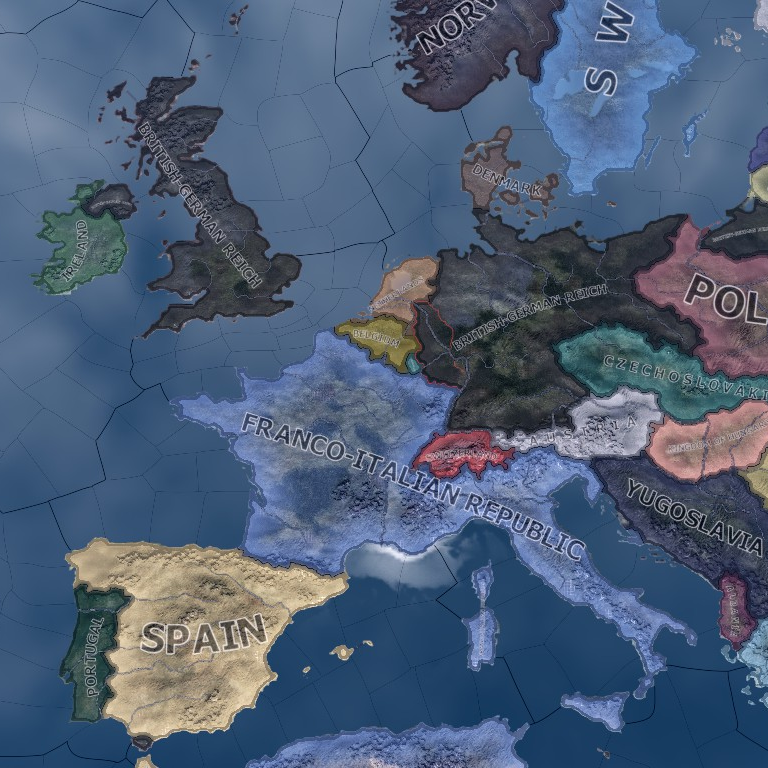 Description:
UPDATES WILL NOT BREAK THIS MOD! PLEASE DON'T ASK ME TO UPDATE IT BECAUSE IT PROBABLY WORKS FINE!
Thank you.
Adds decisions that allows to different countries to form a "union," which basically means one country will annex the other and gain all their cores, units, and generals. The decision is available for each country involved in the union. United countries have their own names, but use the flags of whichever country did the annexing. This mod was made for the YouTuber Drew Durnil to use in his AI-only battles, but anyone can use it for any reason. The game may lag when a country with a lot of cores is getting annexed. The way this is set up makes it fast and easy to make new unions, so feel free to suggest new unions!
Recommended Use for Multiplayer: Start a singleplayer game and form any unions you want, then take the "Disable Union Decisions" decision and save, then load the save in the multiplayer lobby. List all the unions formed in the details section when starting the lobby.
All country unions:
America/Canada
America/Russia
Italy/Spain
America/Japan
Germany/Britain
France/Italy
China/Russia
China/America
Britain/Japan
Australia/Hungary
France/Poland
Benelux (Belgium, Netherlands, Luxembourg)
America/Britain
Germany/Italy
Balkans (Yugoslavia, Romania, Bulgaria, Greece, Albania)
Poland/America
China/Britain
Germany/Argentina
Spain/Portugal
Mexico/Canada
France/Britain
France/Spain
Intermarium (Finland, Estonia, Latvia, Lithuania, Poland, Czechoslovakia, Hungary, Romania, Yugoslavia)
Italy/Romania
Germany/America
France/Russia
Poland/Russia
Russia/Japan
Britain/Italy
Greece/Turkey
Australia/New Zealand
Austria/Australia
Britain/Canada
China/India
China/PRC/Manchukuo (Annexes all Chinese warlords and Mengkukuo, but the descision is not available to them)
Germany/France
India/Germany
India/Japan
India/Russia
Japan/China
Poland/Germany
Super Mongolia (this one isn't technically a union, but just a buffed-out Mongolia that owns most of the land that was part of the Mongol Empire)
All unions involving China include Nationalist China and Communist China
For Germany's unions, if the other party forms the union, the Rhineland will remilitarize
The following foci have been changed to be more compatible:
Danzig or War (Germany)
Danzig for Slovakia (Germany)
Demand Sudentenland (Germany)
Fate of Czechoslovakia (Germany)
War With France (Germany)
Molotov-Ribbentrop Pact (Germany)
Reassert Eastern Claims (Germany)
Claims on Poland (USSR)
Demand Eastern Poland (USSR)
Marco Polo Bridge Incident (Japan)
Go After France (Italy)
War With the UK (Italy)
Compatibility:
Any mod that doesn't add ideologies
Should be compatible with any future updates
Shamless plug for my new mod: Faction Shuffler