State Transfer Tool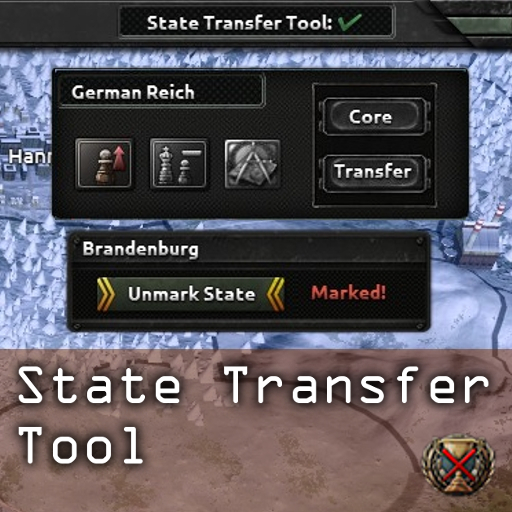 Description:
PLEASE READ THE DESCRIPTION!
Tired of using console to fix some borders? Maybe you just finished great ironman game and want to change some ugly bordergore? This mod is for you!
Info
This mod adds State Manager Tool based on newly added scripted GUIs mechanic.
It gives you ability to transfer states between countries to unlish power of transfer just click on the "State Transfer Tool" text or use shortcut "Ctrl + Shift + t". When the tool is enabled clik on any province to see more options.
The mod windows are movable so feel free to set them up as you like. 🙂
Use Ctrl+Shift+h to hide the on/off button so that it doesn't obstruct the view.
Transfer state tool gives you ability to freely transfer states between all existing countries.
New abilities for you to use:
Marking state
Marking all country' states
Marking colonies
Clearing all marks
Transferring marked states to selected country
Adding and removing cores of selected country
MULTIPLAYER VERSION: https://steamcommunity.com/sharedfiles/filedetails/?id=1368778634
THIS VERSION IS FOR SINGLEPLAYER USE ONLY!
If you have problem with mod check the "Bugs and Problems" discussion first
How to use:

Click on province you want to transfer
Click "mark state"
Click on any province of country you want this state to be transfered to
Click "transfer state"
Compatibility
This mod should be compatible with all kinds of mods, so answering the most popular question: "Yes it is compatible with Road to 56 and Millennium Dawn" 😉

Mod not compatible with the achievements!
INFORMATIONS!

Descriptions will be improved in the future
Polish, Russian, German, French and English languages available
Do you want this mod to be also in your language? Send me localization files.
Contact e-mail: [email protected]
Chinese version by LonsWon:
https://steamcommunity.com/sharedfiles/filedetails/?id=1369793586
Download
Revisions:
Old revisions of this mod are available below. Click the link to download.