Black-Banner's Added Features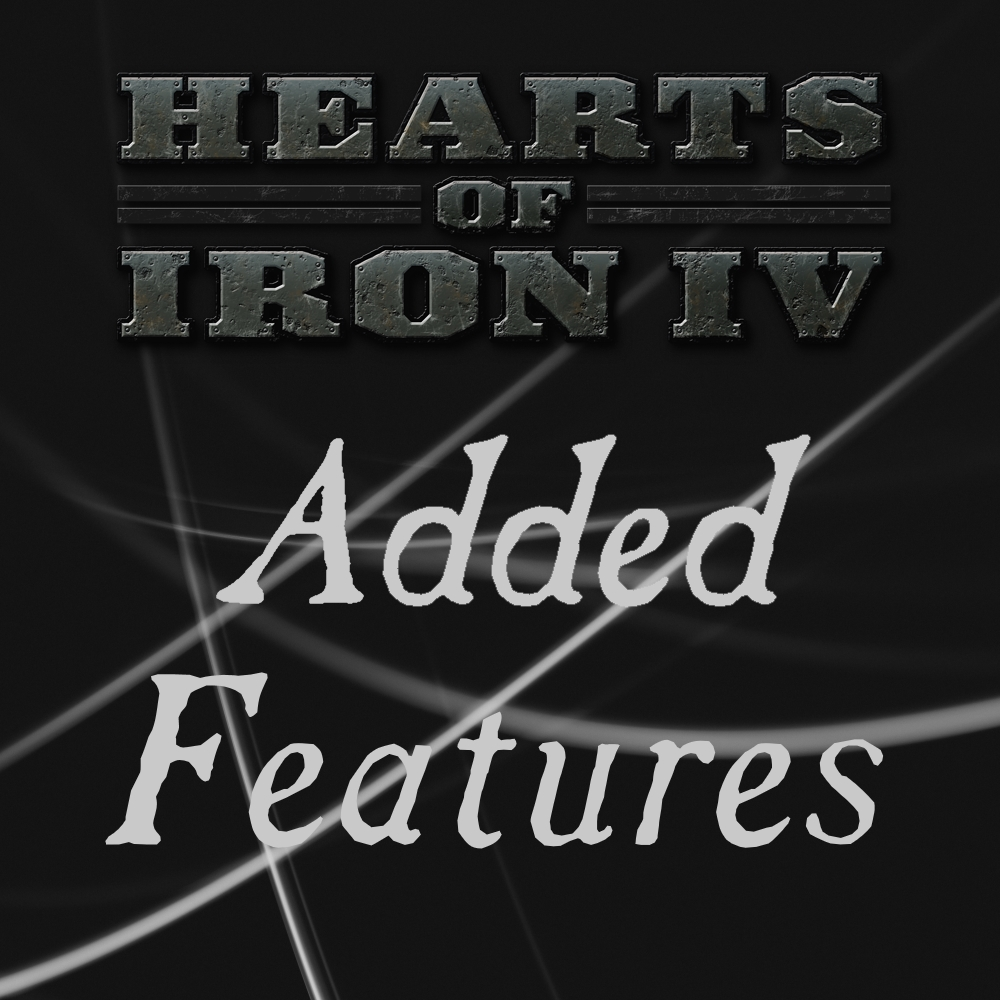 Description:
I advise trying this mod with my "Mechanics" mod to further enhance the conversion. 🙂
Please RATE & FAVOURITE if you enjoyed this mod so others can find it aswell 😀
This mod DOES NOT require DLCs and includes the following:
Partisans Mod
In terms of the AI's resistance to occupation, partisan troops will regularly occur from the state where there is currently high resistance activity. This will require you to place troops to maintain security in the occupied territory and you will not be able to take actions that are unrealistic, like starting a Barbarossa strategy while keeping France open.
When Partisans uprise, the game will inform you of this by a unique sound. Be careful not to miss it until you get used to it. (sounds kinda like an air raid siren)
Credit to – Micteca
WW's Buttons+
Relatively self-explanatory, some people love and some people hate this simple addition, it is very easy to remove and I will do so if there are people wanting this done, please let me know in the comments.
Credit to – Wunderwaffle
Transfer Ships
This will allow players to transfer ships to each other or their puppets in the "Decisions" menu. Take note; the option will always display, even if you dont have any of those particular ships remaining. The transfered ships will remain in the same location but will switch country instantly.
Credit to – Wölfe
Faction Manager
This allows other players many new options in relation to factions (Accessed through the "Political" tab)
These include:
The ability to lower the minimum world tension required to join a faction
The kicking of faction members during war-time and the ability to leave aswell
The option to enable the "Create Faction" law (until one is formed or joined, voiding the requirements)
The ability to dissolve the faction while nations other than your puppets are members
Credit to – Aiydem
Improve Any Equipment
Up to 6 upgrades for almost ANY equipment from base game and many mods including (but not limited to) Convoys, Transport Planes, Infantry & Support Equipment
Upgrade costs are reduced to allow you to get really personal equipment: base cost 5 instead of 10 (land upgrades) or 15 instead of 25 (sea & air upgrades), and extra cost per improvement 3 instead of 5
Tactic and Strategic Bombers (as well as the Great War Zeppelins) have an extra upgrade now: Altitude. It improves Defense & Speed at the prize of Mission Efficiency and Range
Carriers, Battleships and Battlecruisers now hava an AA upgrade (whose effect is more limited than for screens)
Credit to – fedcba and AtomicBlastPony2D
Make Peace not War
3 new diplomacy decisions. These allow you to surrender, make peace or end the war with no territorial gains
Whitepeace is possible with most war scenarios
3 national spirits to reflect war reparations, demands for reparations and a government crisis
An event chain for the government crisis; you can face revolution at home after losing the war
There will be a truce for one month after the war has ended. You can then ask your former enemies to extend it
You will gain/lose every state you occupied during the war after the peace treaty
You or the AI can also force the former enemy to create a demilitarized zone near the border
Example[imgur.com]
Credit to – Skelsa
Puppet Manager
Puppet Country Manager gives you new special puppet actions:
Founding National Integration Movement
Claiming Colonies
Relocating Civilian Industry
Granting Independence
Credit to – DziurkaczD
Puppet Diplomacy
If subjects are not the same ideology as you, decisions for every ideology to change subjects ideology if they don't have yours
AI will use it too, modifiers will also take effect upon conversion.
REQUIREMENTS FOR CHANGING IDEOLOGY:
your subject has not your ideology
Credit to – KampfKeks
Enjoy the mod!! Please let me know if you have any suggestions or find any bugs 🙂