ChaosAI for Vanilla Fixed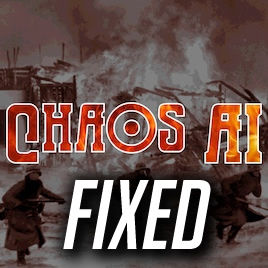 Author:
Zer0
Last revision:
5 May at 10:29 2018 UTC
Description:
Introduction

ChaosAI is a fantastic mod that allows the AI to declare wars by themselves. This works great for creating custom scenarios or just making your game more interesting. The problem was is that the mod stopped the AI from modifying their government/cabinet/whatever you want to call it. This is a big problem as when the AI runs out of man power they can't change their recruitment law amongst other things.
What this mod does

Removes the mod settings from the cabinet and makes it a decision instead. The maker of the mod can do this himself if he wants, and I'll take this version down. Doesn't require the original mod for simplicity sake. I created this for my own personal use but i've seen a lot of people having the same problem as me. If the mod maker fixes his mod, I'll take this down.
Compatibility

Should be compatible with all DLC
Not compatible with Ironman
Is only compatible with mods that use the vanilla ideologies. (Not KR or MD)
My other mods

50% Guarantee Limit
75% Guarantee Limit
100% Guarantee Limit
Easy Terrain (Color Coded Terrain Types)
Himmler can form Greater Germany
More Colourful Arrows
No Puppet Divisions