The Armenia Mod [DISCONTINUED] [SEE KAUKASUS]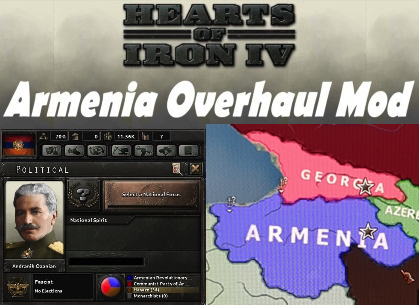 Description:
What This Mod Does & Includes
This mod's aim is to allow the user to release and play as one of the Caucasus states and restore or conquer the many disputed states of the mountainous region.
Achtung!
This mod is now obsolete, check out Kaukasus here:
https://steamcommunity.com/sharedfiles/filedetails/?id=1485648797
The Armenia overhaul is essentially an overhaul of the Caucasus in Hearts of Iron IV as well as adds other elements such as a split Ostpreußen state, a coast of Moldova state and Moldova, all of the Central Asian nations such as Kazakhstan and Uzbekistan and better Polish provinces for a more realistic Yalta version of Europe, etc. The mod also includes new country colours and names.
This mod is a alternative history if the Caucasus was never conquered by the Red Russians and they stayed independent throughout the 20th century. In addition to some new core states for Armenia to retake, many provinces and states have been redesigned to give a more historically accurate Wilsonian Armenia and current modern day Armenia. The new countries included in this mod are the Republic of Artsakh, whose core province is in Nagorno-Karabakh, Kurdistan which has cores in Turkey, Iraq, Syria and Iran; Transcaucasia which is the unified Caucasian state that has core on all of Transcaucasia, Moldova, All 5 Central Asian Republics and a Turkestan state which has cores on all Central Asian nations.
The newly released Caucasus states now have their own divisions, airforce and Armenia and Artsakh have two new custom made national spirits (see pictures). The mod also gives Armenia a new and reworked focus tree more suitable for conquering or allying with its neighbours.
This mod also adds new historically accurate handmade leader portraits for the different ideologies and famous military commanders of Armenia. The mod also includes a slightly modified version of Lev Slav's Flags with Lev Slav's permission. Additionally, there are new, more historically accurate country names and colours for the world.
New Central Asian nations are: Kazakhstan, Uzbekistan, Tajikistan, Turkmenistan and Kyrgyzstan, also a new Moldova nation for a complete Soviet Republics experience! Additionally there are a couple new political decisions: One to invite Armenian Scientists for a research speed buff and another to expel the local populations of Western Armenia to replace with ethnic Armenians.
1939 Blitzkrieg Start Date will be a fully restored Armenia with almost all its territories for convenience.
Credits
Finally, a very special thanks to Jumps, David Cameron & Lev Slav for lending their time to help me develop this mod and include Lev's fantastic flag mod. Thank you to Kaiserreich team for allowing the use of their Andranik Ozanian portrait.
Warning: Any racist, offensive or hate comments towards the mod or Armenians will not be tolerated, this is simply an alternative history mod so don't get your knickers in a twist if you're offended.
Download
Revisions:
Old revisions of this mod are available below. Click the link to download.