More Releasable Nations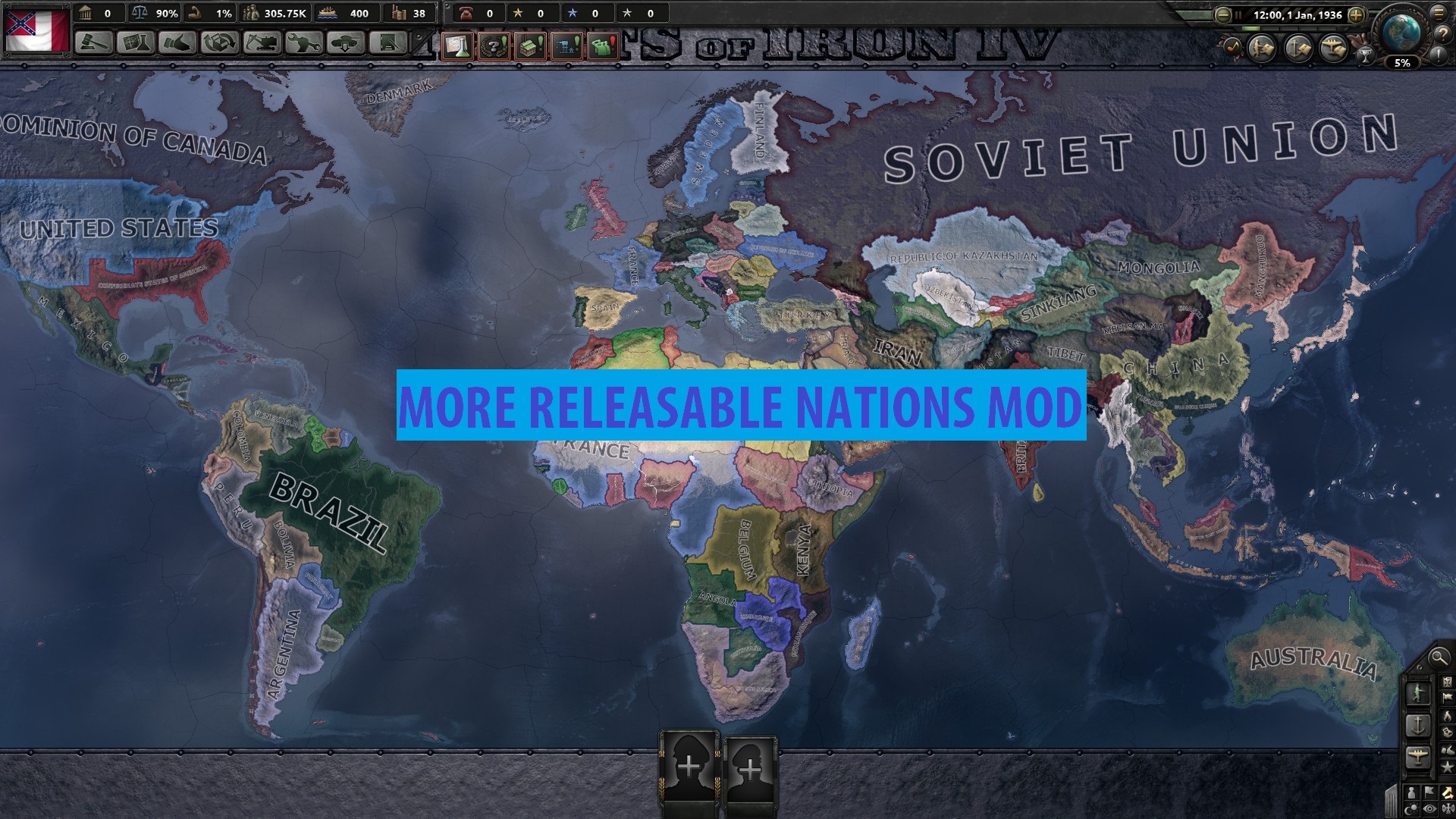 Description:
Beware! This mod will probably become obsolete with the 1.6 Ironclad update since Paradox have been working on adding a majority of the following nations into the game.
Here's the Dev Diary concerning that topic: https://forum.paradoxplaza.com/forum/index.php?threads/hoi4-dev-diary-a-post-colonial-world-map-changes-and-new-tags.1109323/&utm_source=stcom-owned&utm_medium=social-owned&utm_content=post&utm_campaign=mtt_hoi_20180711_pla_dd
I hope you are looking forward towards patch 1.6 as much as I am! 😀
—————————————————————————————————————————————
This is a mod that adds more nations for the player to release!
M.R.N. (More Releasable Nations) is intended to add more diversity to hearts of iron,
by adding theese nations to the game. It utilizes a bunch of "flag-files" that Paradox
for some reason did not use in the game and the purpose of the mod is also to make
the HOI4 map more relatable to the modern-day borders.
– It adds the following countries:
ALG = Algeria
BIH = Bosnia-Herzegovina
BUR = Burma
CSA = Confederate States of America
GUY = Guyana
KAZ = Kazakstan
KGZ = Kyrgyzstan
KOS = Kosovo
LKA = Sri Lanka
MAR = Morocco
MDA = Moldova
MKD = Macedonia (T.F.Y.R.)
PNG = Papua New Guinea
SIE = Sierra Leone
SVN = Slovenia
TJK = Tajikistan
TKM = Turkmenistan
TUN = Tunisia
UZB = Uzbekistan
– The mod also adds the state of "Kosovo" (ID:763), due to this it modifies some neighbouring states.
It is recommended that you play with the 1936-bookmark
and beware that MRN is not compatible with ironman.
This is my first mod, so any feedback is appreciated! 😀
There is also a similar mod made by Titanium Rogue, be sure to check that one out as well:
https://steamcommunity.com/sharedfiles/filedetails/?id=850832090&searchtext=releasable+nations