Ante Rebellum 0.2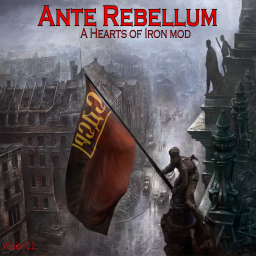 Description:
We are happy to announce that with Ante Rebellum ver 0.2 being released we are also making an "official" Paradox forums thread.
Ante Rebellum is a total overhaul alternative history mod for Hearts of Iron 4, made by a small group of internet friends for fun and to share our love of history and video games. AR's timeline diverges from ours in 1905, where the Russian-Japanese war destabilizes the Russian empire into a civil war that eventually causes the total collapse of the Tsardom.
We rereleased the mod due to some changes within the mod team, namely the dev responsible to uploading leaving the team
The best way to contact us is through our official development discord server
Discord Server – https://discord.gg/MGF6K96
Report any bugs here – https://docs.google.com/forms/d/e/1FAIpQLSco3wPB1OvBQj0Q76bBqabMXhOYvPgFnnmOy0mHS6Ovz-dURA/viewform
Highlights of this timeline include:
•A cold-war conflict between a young Soviet-Republic lead by Trotsky and a sprawling Japanese empire lead by an increasingly liberal Diet.
•A global war in the late 1910s making Germany the dominant power in Europe
•A colonial race between Germany and Britain threatening to destabilize the British empire from over-extension
•A fragmented China torn apart by various warlords vying for control of the Republic.
•A massive red scare throughout the United States, leading to a decade of internal strife and a devastating war.
•A social-economic collapse of the established old order leading to a wave of radicalism throughout the world
list of new 0.2 features:
Compatibility with the latest hoi4 version
New American State focus tree
New French Focus tree
New Soviet focus tree
Many new events and decisions
Integration of new features
Will the old order manage to hold off against the tides of populism and dissent? Or will the onslaught of change wash over the entire world in a burst of fire and blood?
You can find the complete timeline of lore from the point of divergence to gamestart here:
https://docs.google.com/document/d/1PD2UH6CSXVbFIjMLi757x4uCUi6osH8-RVLs86TQLmA
Steam workshop page: https://steamcommunity.com/sharedfiles/filedetails/?id=1401062753
If you are interested in helping us out, or give your ideas for the mod please contact our discord server. No prior expirience is required, we can teach you everything there is to know.
Download
Revisions:
Old revisions of this mod are available below. Click the link to download.