Colored Puppets & Country specific names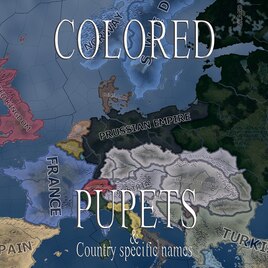 Author:
Nekololi
Last revision:
2 Mar at 06:39 UTC
Description:
As of today, ANY vanilla country can change color of their puppets and ALL majors and Poland has unique names
IF NAMES ARE CHANGING BUT COLORS NOT, YOU GOT NOT COMPATIBLE MOD THAT OVERWRITES COSMETIC.TXT
Ironman compatible… No
If you see some naming issues go to Link[pastebin.com].
Using this template create on that site new entry with changes, then send link in suggestions topic.
DO NOT remove original names of countries they here to make sure it still be in a proper order
If you encounter a bug don't forget to post it in a bug report section
If you encounter freeze tell that to paradox maybe they fix it 😉
Fully Compatible mods:
Beautiful states
As in original Colored Puppets by Dziurkacz, Colored Puppets & Country specific names is a mod that let you change countries color that fits their controlling state and now name also included.
No more puppet being empire
For now only major countries and Poland has unique names for puppets. I will add more if the community is interested in this mod
Many thanks to Dziurkacz for the idea of colored states and the base event code.