Equestria At War – Traducción al Español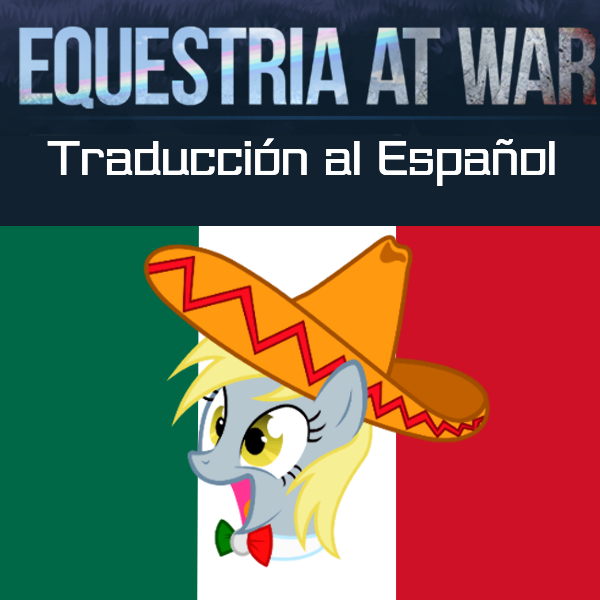 Description:
DESCRIPCIÓN EN ESPAÑOL
Traducción al idioma español para el mod "Equestria At War" de HOI4.
Equestria at War es un mod de modificación total que altera el juego de Hearts of Iron 4 para transportarnos a un mundo mítico y mágico ubicado en el universo de My Little Pony: La Amistad es Magia. En Equestria At War los jugadores podrán elegir numerosas naciones ficticias habitadas por especies diversas (ponis, cambiantes, grifos, venados, etc.) que desplegarán toda una serie de guerras, conflictos y actos diplomáticos entre sí. Cada especie tiene su árbol tecnológico propio que la diferencia del resto. Hay numerosos Árboles de Enfoques (Focus Trees) dentro del Mod para un sinfín de países.
Sin lugar a dudas Equestria at War es uno de los mods más espectaculares para Hearts of Iron IV por su amplio contenido, su comunidad dedicada y el buen rendimiento y estabilidad que sostiene dentro del juego.
Nota: Esta es sólo una traducción al español, para descargar el mod completo dirígete al siguiente enlache:
https://steamcommunity.com/sharedfiles/filedetails/?id=1826643372
==========
ENGLISH DESCRIPTION
Translation to the Spanish language for the "Equestria at War" mod for HOI4.
Equestria at war is a complete modification mod that alters HOI4 to transport us to a mythical and magical world located in the My Little Pony: Friendship is Magic univeres. In Equestria At War the players are able to choose several ficticious nations inhabited by diverse species (ponies, changelings, griffons, deer, etc.) which will wage wars, conflicts and diplomacy among each other. Each species has its own specific tech tree which differentiates it from others. Theres tons of interesting Focus Trees within the mod for lots of countries.
Without any doubt Equestria at War is one of the most spectacular mods for Hearts of Iron IV due to its amount of content, its dedicated community and the great stability and performance that it has within the game.
Note: This is just a translation, in order to enjoy the complete mod go to the next link:
https://steamcommunity.com/sharedfiles/filedetails/?id=1826643372
______________________
LISTA DE ACTUALIZACIONES / UPDATE LIST:
Versión: PRE ALFA 0.1 / PRE ALPHA 0.1
Subida el 06-06-20 / Uploaded on 06-06-20
Cambios / Changes
*Se han traducido al español los nombres de los países para el continente de Ecuestria / Names for countries located in the Equestrian continent have been translated.
Notas: Esta versión se encuentra en un desarrollo muy temprano y aún no es posible tener una experiencia parcial o completa en el idioma español.
Notes: This version is in a very early stage of development and thus it isn't possible to have a partial or complete experience in the spanish language.