Historical Germany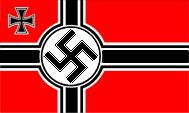 Description:
Hello!
This is my secound mod for Hearts of Iron 4.
Its pretty small and probably only interesting for the historical players out there!
Basicly it adds a bit realism to the game by doing the following things:
Adds historical swastika flag just at the beginning of the game
Adds an event that gets triggered by 1943 that changes the name of germany to "Großdeutsches Reich" or in english "The Greater German Reich".
The National flag gets the "Großdeutsche Kampfflagge"
Thats basicly it!
UPDATE 01 (18.09.2017)
Fixed bug that triggered the event every month
New sweet ass picture or the Führer himself :3
PLANNED THINGS:
Add Hitler´s Suizide event (like in reallife) with Karl Dörnitz getting the new leader of the Großdeutschen Reich.
All these thing happened in reallife too.
PS: To add a bit of realism and the right nazi feeling i didnt translate anything into english because Großdeutsches Reich just sounds better than ♥♥♥♥ing Greater German Reich.