Red Flood: Rome Resurgent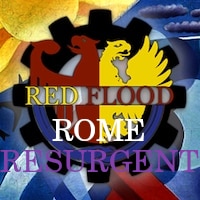 Description:
Have you ever looked at Red Flood's Monte♥♥♥♥♥ content and thought "wow, that amounts to nothing"? Well, if you played the mod before 0.3 was released – you might have. This mod restores the Monte♥♥♥♥♥ you know and don't love with some extra flavor and a new goal – to glue the Roman Empire back together.
FEATURES:
– New content for Monte♥♥♥♥♥ (decisions, events)
– Reworked the "Imperial Ambitions" branch
– New CTs for Monte♥♥♥♥♥, with flags and map colors
– Ability to establish the provinces of Pannonia and Germania
– Reconquer the Roman Empire and show your might to the world
ROADMAP:
– I desperately need to make/obtain GFX for the mod – while the Germanian flag is okay, the Pannonian one is a disaster.
– I need to take a look at the rest of the focus tree, it's entirely possible I end up reworking the entirety of it.
– I want to add at least two more paths, probably with a complete "Power Struggle" mechanic.
SPECIAL THANKS:
– Red Flood Dev Team for making the mod in the first place.
– Engelbert Humperdink on Steam for coming up with the idea.
– The Polish HoI4 Modding Association for helping me with some stuff that the HoI4 wiki did not bother to explain.
– The Artists responsible for creating the flags I used in the mod, found at https://imgur.com/gallery/x7vfm https://commons.wikimedia.org/wiki/File:Flag_of_Minister_of_Fascist_Italy_(fictional).svg and https://www.deviantart.com/artificer6/art/Flag-of-the-Federation-of-Illyria-784846346