TWR: Flavor Mod Reloaded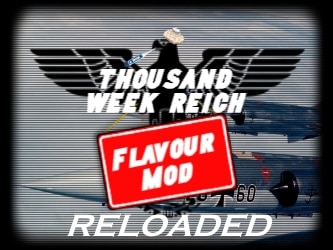 Description:
Welcome to TWR: Flavor Mod Reloaded
More Game Rules, More Flavor, More… Stuff
The original TWR: Flavor Mod has been long outdated for months, so I have decided to make a successor of sorts. Suggestions are welcome in the comments. I personally really enjoy TWR, so I will keep this pretty up-to-date.
Included Mods
+ Player-Led Peace Conferences
– We both know HOI4 is ♥♥♥♥ without this.
+ Peace Deals
– Use responsibly. Mainly for roleplaying; the same goes for Demand It! uses
+ Nuclear Aesthetical Overhaul (NAO)
+ Random Flavor Events
– Integration WIP; some events will be missing
+ Better Sounds
+ Realistic Nukes 1.10
– Three nukes on the capital region for a forced capitulation
+ Demand It!
– Use this responsibly
+ Recall Volunteers
+ Realistic Nukes
– Realistic nuke damages and division annihilation
+ Unique War Names
– Renovated to fit Thousand Week Reich
+ Embargo Mod
+ Write Letter V3
+ Sensible Theatre Icons
+ State Transfer Tool MP
– CTRL+H to collapse the tool
+ 1 XP Designer + Spot Optimizations
– Spot Optimization Mod fixed to work with "Barbarossa" update
+ HOI4 – Texture Overhaul – Citylights
+ More Division Icons
Misc Changes List
+ A brand new Aryan Empire flag. Aryan Empire now guaranteed for Himmler route.
+ Miscellaneous portrait changes, primarily ported over from the original TWR: Flavor Mod.
– Kishi, Hirohito, Franco, and Himmler are a few to name
Suggestions/Contact
If you wanna reach out, just leave a comment before you add me so I know you're not some spam bot.
Suggestions can be left below. If you spot any issues, please let me know as well (don't bark at me though, I'm not a code slave and I'm just doing this for fun).