Expanded Faction Options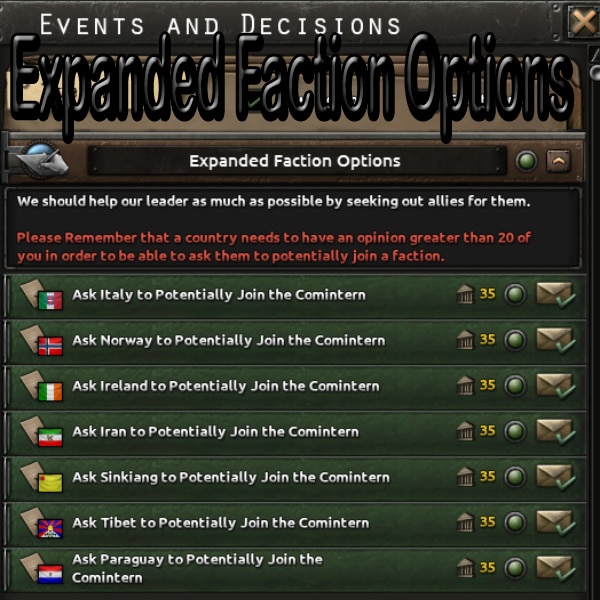 Description:
What is the Mod About
The purpose of this small mod is to simply add an option for a player to ask a country to join their faction even if they're not the leader of said faction. This should greatly improve multiplayer experience and allow players to indirectly have the opportunity to invite a country to the faction.
Main mod
This is only a side project I made in the meantime, my real mod where I'm putting genuine effort on can be accesed through this link: https://steamcommunity.com/sharedfiles/filedetails/?id=2320963406
Discord
This is the discord made for the main mod, but can still work as a server for this one too.
The link can be found here: https://discord.gg/b5YRDPyPDx
Patreon
If you really, really, want to support me, you may do so by donating to my Patreon. This is completely optional however, and you just simply playing my mod is more than enough for me. 🙂
Patreon Link: https://www.patreon.com/oscarrefachero
Current Patreons
Very Special Thanks to my Patreons:
– Ferris The Divine Protector
– UNIVERSO WARHAMMER
– Bramja
– Burito
Special Thanks
Special thanks to CosmoWolf for the idea!