TGFT v1.04 (Generic focus expansion)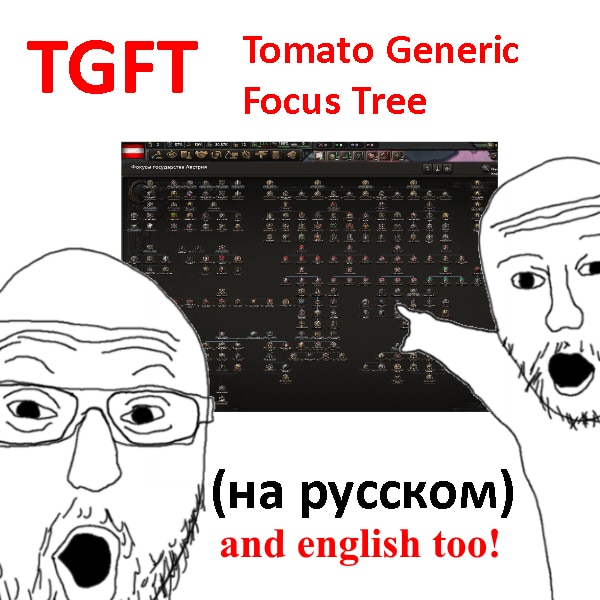 Description:
This desc. and mod translated by using google translate. If u want help me with eng. translation – send me a message to link at the bottom (Discord or VK).
My first big mod expanding the focus tree for minor leaders to an unhealthy size.
The mod is a half-sh1tpost and contains a lot of comic descriptions and a bit of comic focus, but in general I tried to maintain at least a slightest balance and make the focus more fun. Initially, in general, the goal was that the minors on the map would create more game and activity. Now they will be more active (perhaps even too much) to attack their neighbors, change ideologies, receive buffs and manpower, civil wars with homeless divisions stuck in positioning, and so on. In this version 1.04, I managed to do 326 focus and the mod so far contains ONLY FOCUSES AND IDEAS (national perfume), no events, no solutions, no news.
Most focus are completed in less than 70 days (although there are longer ones)
I recommend playing with more minor releases.
FOR AN UNKNOWN REASON, the political branch is not displayed after taking focus, until you watch the focuses of another country (ye, rly). I do not know the reason for the bug, why the focus tree is not updated automatically and immediately, if you know the reason for such a bug, write to me.
What's new in version 1.04:
– Again, the priorities of bots have been changed (more often they take sea and construction branches)
– Fixed a bug with the condition of the construction branch (required FREE non-working factories, not AVAILABLE)
– Mercenaries now require technology for trucks
– Civil war have become more "equal"
– Now neutrality can be taken with a neutral ideology, and not just 60% support
– 12 new focuses (communist sub-branch, +2 focus in rifle-tank)
My VK group (there content is mainly on Warcraft 3): https://vk.com/tomatopaste
My discord group: https://discord.com/invite/s3MYj33CBZ