Warlord Era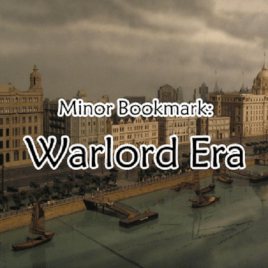 Description:
Important Notice: This update will mark the end of content development on Minor Scenario: Warlord Era mod. This will mean no new content planned for this mod. If you wish to keep this mod maintained, feel free to reach out to the dev team to help out, or just to express your interest.
While Minor Scenario: Warlord Era may no longer be updated, the dev team are proud to present to you its successor mod: Autumn Begonia: Under the Auspicious Cloud – A Warlord Era Mod (Formerly known as Golden Decade).
Portal here: https://discord.gg/XgNyS6G
"The empire, long divided, must unite; long united, must divide." — Romance of the Three Kingdoms
With the end of the Empire of China, the Middle Kingdom is once again thrown into disarray. Countless heroes and warriors emerge from the strife and chaos across the land, in pursuit of the Begonia Leaf. Will democratic ideals be restored to the young republic, or will the dragon throne be occupied once again? Your decisions will change China forever.
Features
*A map that just focuses on South East Asia.
*Added provinces to represent China at the time.
*New ideology names
*New events for historical accuracy
*Brand new tech tree fit for the timeframe
*New focus trees
*Weihaiwei
Planned Features
*More Color Portraits
Want to help?Maybe want to become a part of the team?Want to discuss Chinese people from the 1920s nobody knows about?Or just want to hang around with people?
Join the Warlord Era Discord! https://discord.gg/PbpKCtY
Countries With Focus Trees
*Guangdong
*Anhui Clique (Jingzhao)
*Zhili Clique
*Fengtian Clique
*Sichuan Clique
*Yunnan Clique
*Shanxi Clique
*Shanghai
*Mongolia
*Tuva
Credits and Acknowledgements:
– Special thanks to our original team lead, Wreathlith_Noel, for bringing this mod as well as much of its content to existence. We would not be here today if not for Wreathlith_Noel's contributions.
– Special thanks to the KR team for their wonderful portraits used in the mod!
Current Dev Team (In no particular order):
– Roniius (Lead Dev, Residential Mongolian in hiatus)
– Hellbat (Artist, Pu Yi look-alike)
– Nestor (Developer, Bugsquasher)
– Willem VI (Local BDSM Enthusiast)
– Literal Sun (Developer, Right-hand Man to Roniius)
– Meihua35 (Developer, Reviver, eGirl)
– chill.phil (Tester, Writer)
– Trickster (Naval Dev)
– I Like Cake Too (Artist)
– OperationsManagementDecisions (Artist)
– Nukacolaman (Artist, Researcher, local Strongman)
– OrganicRed(Writer)
– Ankh (Tester, MapDev)
– Anbory (White Russian Ham Shop Owner)
– Bobby Swango (Foreign Representative, Tester)
– KuomintangSemite (Al-Yahudi, lead of Autumn Begonia)
We'd also like to use this opportunity to express our gratitude to everyone who contributed to the development of this mod in the past, be it a simple suggestion or an extensive bug report.
Finally, we'd like to thank you for being with us this long! We hope to see you again at Autumn Begonia!
Yours Sincerely,
Minor Scenario: Warlord Era Dev Team
Download
Revisions:
Old revisions of this mod are available below. Click the link to download.