Kaiserreich: More Leaders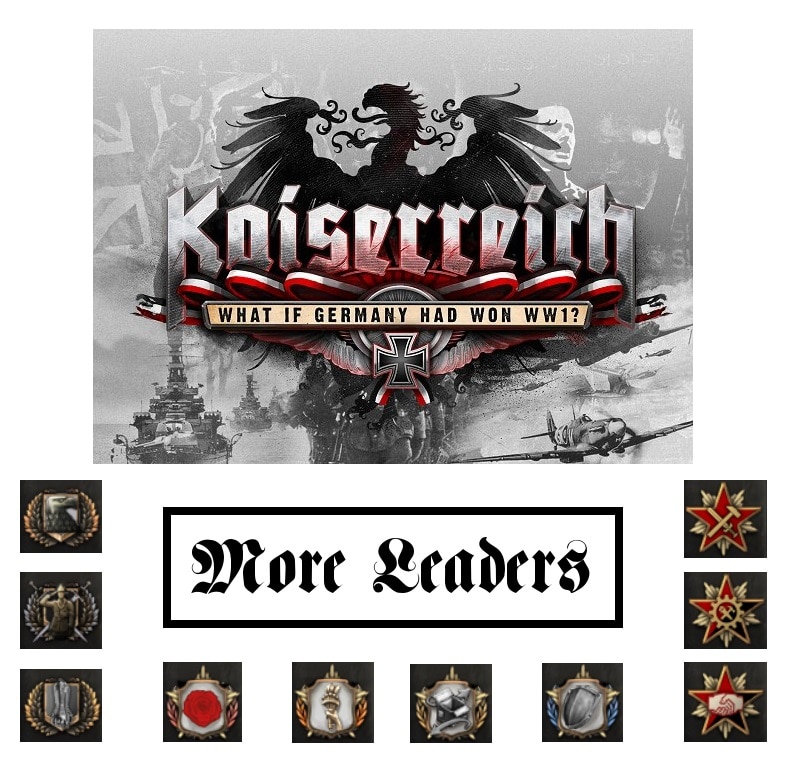 Description:
Are you tired of playing Kaiserreich and seeing the same generic portraits and randomly generated names pop up whenever a minor country gets liberated by a country with a different ideology or when said country changes its own ideology? If you answered yes, well then this is the mod for you, as this is a mod that adds many more historical leaders to many different minor countries within Kaiserreich: Legacy of the Weltkreig, and with new colorized portraits as well.
So far, new historical leaders and portraits have been added for the following nations; Alash Orda, Angola, Armenia, Austria, Azerbaijan, Belorussia, Bohemia/Czechia, Bolivia, Bosnia, Brittany, Cape Verde-Guinea, Canada, Catalonia, Ceylon, Chile, Colombia, Costa Rica, Cyprus, Denmark, Don-Kuban Union, Dominican Republic, Ecuador, El Salvador, Eritrea, Estonia, Euskadi, Flanders, Galicia, Galicia-Lodomeria, Georgia, Guatemala, Guyana, Hawaii, Honduras, Hungary, Iceland, Illyria/Croatia, Jamaica, Japan, Kachin, Korea, Kurdistan, Kyrgyzstan, Luxembourg, Madagascar, Mexico, Monte♥♥♥♥♥, Mozambique, North Germany, Nicaragua, Nigeria, Norway, Occitania, Panama, Prussia, Rhineland, Scotland, Shan, Slovakia, Slovenia, South Germany, Spain, Suriname, Tajikistan, Transamur, Trinidad, Tuscany, Turkestan, Turkey, Ulster, United Baltic Duchy, Uzbekistan, Venezuela, Wales, Wallonia, West Indies Federation and Yucatan.
Link to the Kaiserredux compatible version: https://steamcommunity.com/sharedfiles/filedetails/?id=2182757323
Enjoy!
Note: It should be noted that in some of the screenshots there be outdated borders or minor errors. Nevertheless, these issues have since been fixed.
Portrait Credits (Incomplete and WIP):
Download
Revisions:
Old revisions of this mod are available below. Click the link to download.