Compatability Patch – Ireland Expanded + Improved Imperial Federation 2.0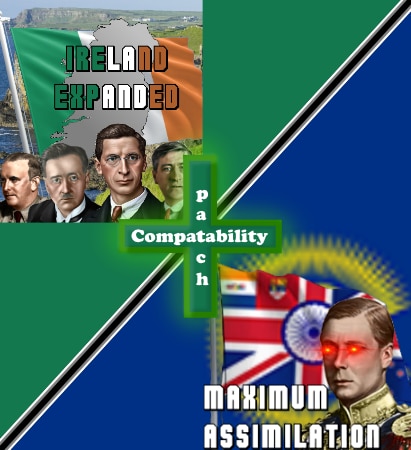 Description:
Whilst my Improved Imperial Federation and Ireland Expanded mods are not incompatible with one another, this small patch makes the two integrate with each other better.
Changes
-If Ireland goes down its commonwealth tree, and completes the focus "Confirm ties to the Commonwealth" it will automatically attend the Imperial Conference. They will also be more likely to approve plans for a federation (+20%).
-If Ireland goes down its "Legacy of Revolution" tree, it will be much less eager (-80%) to attend the Imperial Conference, as that tree naturally puts them at odds with Britain
-Eamon de Valera will be less likely (-20%) to approve the federation and attend the conference if he has completed the focus "The New State" and founded the Republic of Ireland, formally ending Ireland's relationship with the commonwealth (he should do this around July 1938 on historical focuses, or the "Join Allies" Game Option, meaning that you will have to act fast to keep the odds in your favour. He remains just as likely to support other decisions however, and will still contribute on issues of trade, defence ect.
-Succeeding to federate Ireland unlocks Irish political advisers, whilst coring Ireland after conquest grants access to Irish design companies
-Upon Integrating Ireland into the Federation, a selection of focuses from the Irish Focus tree are available as Imperial Focuses